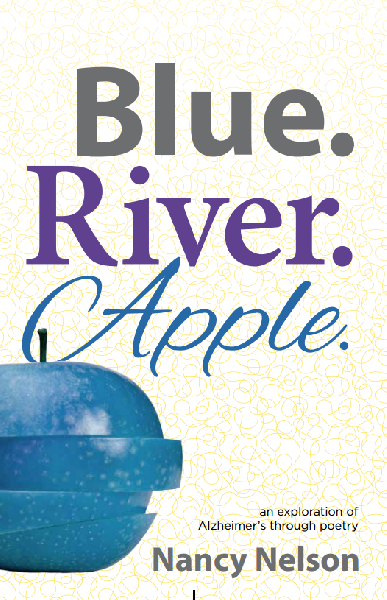 - August 12, 2014 /MarketersMEDIA/ —
Las Vegas, United States – August 12th, 2014 /PressCable/ —

Dementia translates as 'deprived of mind.'
Las Vegas, Nevada, August 2014 -
Nancy was diagnosed with Alzheimer's late last year. Just a few days after the diagnosis, Nancy began waking up in the early morning hours compelled to write. The result of her new-found obsession is a book. It is a

series of poems depicting her experiences and challenges since receiving the diagnosis of Alzheimer's. The book is due out August 15th, 2014, called Blue.River.Apple. The title stems from the three words she was given as a test for Alzheimer's. Obviously, she failed that test, but not the fight.
"One day my world changed abruptly. In September 2013, my daughter and I sat at a doctor's office tightly holding hands, sweaty and

nervous, waiting for the outcome of medical tests and final opinions. We were

expecting better, but received a diagnosis of the most dreaded kind – Early

on-set Alzheimer's.
Dementia translates as "deprived of mind". Confirmation

that I was to follow my father's footsteps jarred me in ways I never imagined.
Blue.River.Apple. expresses my journey through poetry."
About the Author
Nancy was born in Everett, Washington, and moved with her

family to Las Vegas over (50) fifty years ago. She has recently retired from

the insurance business and is a mother, grandmother, writer, and now mentor to

others who face her dilemma of dementia.
The Launch
The book launch will take place in Las Vegas, NV at the Tuscany Suites and Casino, 255 East Flamingo Rd. Las Vegas, Nevada 89169. The event will start at 3:00 PM on Thursday August 21 and end at 5:00 PM. The author, Nancy Nelson, will be signing books and greeting her readers. There will be a special "By Invitation Only" celebration dinner following the book signing for the dozens of Kickstarter supporters that assisted in funding the publishing of the paperback version of

the book – Blue.River.Apple.
For representative contact:
James Kelly Goodlett
Phone: 702-885-4460
Email: aspectsofwriting@yahoo.com
Contact Info:
Name: Nancy Nelson
Email: Nancy@BlueRiverApple.com
Organization: Blue.River.Apple Publishing
Website: http://www.blueriverapple.com
Phone: 702 807-8808
Address: Las Vegas, NV
Release ID: 58965