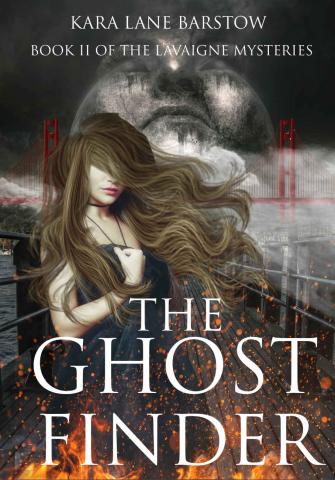 - September 10, 2019 /PressCable/ —
Kara loves living in Northern California with her supportive husband. He is her best friend, making her laugh often. While their nest is empty of children, it has been overrun by cats and dogs. After abandoning a career in the software industry, she finally set free the characters and stories brewing for decades in her imagination. Kara Lane Barstow has launched her brand new book, "The Ghost Finder". The book went live on June 18, 2019, and is available on Amazon. It is the sequel to her first book, The Ghost Maker, and is expected to become a big hit with fans of the Supernatural.
More information on the book can be found here: http://karalanebarstow.com
This is the Second Book of the Series book Barstow has authored. The book was written with the aim to entertain readers who enjoy a little supernatural flavor in their reading material. There's also particular excitement about this launch because This second book of the series has Eric and Daphne teaming up to establish their new careers as ghost hunters. Their first client is the last person Daphne imagined coming to her for help, her skeptical sister, Ariana.
The Ghost Finder sets its main focus on Daphne and Eric who agree to help Ariana discover why a troublesome ghost is haunting the office building she just purchased. While the ghost is annoying, they soon discover that the building is also home to a much more violent ghost with horrible secrets. Readers will likely find a particular interest in Daphne's gift. She can relive the last moments of a person's life by connecting to their ghost. However, there are some whose deaths are too terrifying to relive. In order to help her sister, she'll have to figure out the truth, no matter how dangerous it is to her psyche. The book's cover art was created by Teodora Chinde who also created the cover for The Ghost Maker.
Kara Lane Barstow has a background in the software industry before giving it up to write the stories circling in her head. Her lifetime love of books, and especially mysteries, helped her create the story of Daphne.
When asked about why she wrote the book, Barstow said: "Daphne has been in my head for a decade, I wanted to see what she could do once she was free."
Barstow has hopes that the book will I hope those who read it find it entertaining and care about Daphne, and her family and friends, as much as she does. This positive outlook from the author is certainly testament to their optimism considering some of the mishaps during its creation. At one point this story started out as just a short entry point for the primary story, but it grew to be its own story, pushing the original idea into what will be book three!
In a recent interview, the author made a point of thanking her husband who has been her greatest supporter, along with her sister-in-law and mother-in-law who both often inquired about when the next book would be ready. for their part in the creation of the book, saying: "Thanks to my husband and his family for always believing in me."
Those interested in learning more about the book can visit here: http://karalanebarstow.com
Release ID: 88917241