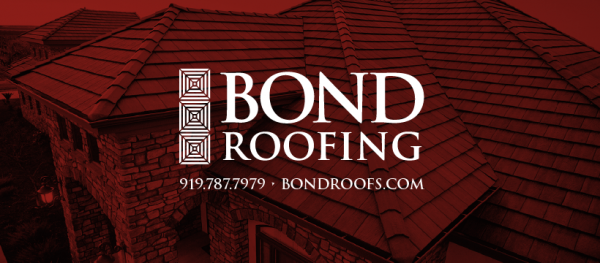 - March 23, 2021 /PressCable/ —
Bond Residential and Commercial Roofing has published an illuminating article for home and business owners on the main factors to consider when choosing a roof for home or business. A few of the things to consider are covered below, and the complete article can be read at: https://www.bondroofs.com/howto-choose-the-right-roof-for-your-house-and-budget
Choosing the correct roofing material for a home or business can be difficult. There are many factors that go into picking out a roof that might not have been considered. The Bond Roofing article covers the main factors to keep in mind when picking out the proper roofing material.
One of the most important things to consider is the slope of the roof. The slope of a roof is its vertical rise in inches over its horizontal run. In some cases, the slope of the roof will dictate the type of roofing. North Carolina Building Code and manufacturers require a minimum slope of 2:12 for asphalt shingles.
Also factor in the location. Buildings and homes in high wind zones that exist in the coastal and mountainous parts of North Carolina might be better suited for metal. Another thing to consider is the location of trees on the property. If the home or business has a significant tree canopy, the roof will need to be made of a material that can withstand fallen tree branches.
If energy efficiency is the goal, metal and white membrane roofs keep attics and buildings cooler than most shingle roofs. Metal roofing reflects heat while shingle roofing absorbs it. Metal roofing is useful for those in a hot climate or an area with hot summers.
Bond Roofing has served the greater Raleigh, NC area since 2003 and have 250 years of combined experience. They have served and satisfied thousands of clients. On using Bond, A. Renchal shared, "All we heard was 'yes.' Every request, every suggestion, every need was met with, 'Yes, we can do that.' And in the end we got exactly what we wanted for exactly the price they quoted."
Those interested in residential or commercial roofing from Bond Roofing, can call 919-787-7979 or visit the link above.
Release ID: 89002024