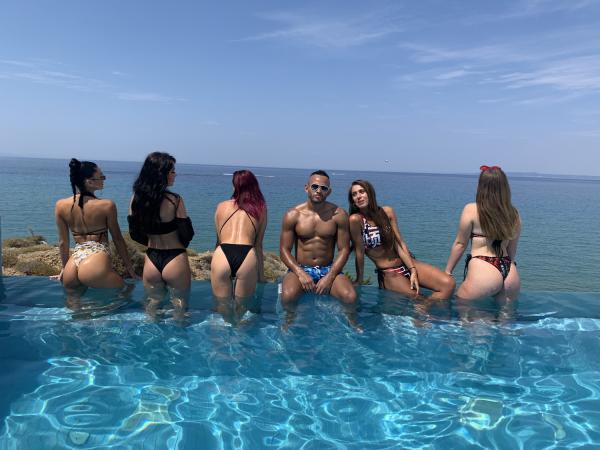 - November 12, 2020 /PressCable/ —
Bobby J, also known as Blacker Than Gold, is a pop artist and rapper hailing from the North West of England. His catchy versatile flow took form after joining the Hip-Hop trio 'The Gar', and following the success of their debut mixtape, they quickly gained popularity and managed to secure a spot on 'The U Turn Project' which was created by the multi-platinum selling producer, Herb Middleton.
After taking a short break from music due to some struggles with direction, Bobby went on to join the Royal Marines to gain the extra focus and discipline he needed. Following this, he pursued a career in the fitness industry and became fortunate enough to travel to over 70 countries all over the world whilst doing so. Throughout all of this, music still remained at the forefront of Bobby's mind, and he continued to write and develop his sound – and he has now returned to the world of music.
Reflecting his life experiences, Bobby wants to make music that can be enjoyed by everyone, all over the world. Bobby grew up listening to all types of music, such as Reggae, Lovers Rock, Soul, R&B, Hip-Hop, Grime, Garage and Pop, and after experimenting with his sound, he's received some great feedback from BBC Radio Stoke for his track 'Alive & Free', This spurred him on even more to go all in with his music, leading on to his latest track 'Body Of A Dancer'.
Release Date: Friday November 6th 2020
Whilst on his travels, Bobby wrote his latest single 'Body Of A Dancer', and he collaborated with the multi-talented singer/dancer Flash Baker, and the multi platinum selling producer, 'Mantra' on the track. 'Body Of A Dancer' is bursting with a mix of afrobeats and rap, with an incredibly catchy hook which you won't be able to get out of your head.
The element of story-telling is high on the list of importance for Bobby J, and he shows that with the lyrics of his latest track. Inspired by two women, 'Body Of A Dancer' tells the story of Bobby J's connection with the two ladies – he met one of them in the gym whilst in the Caribbean, and the other whilst working on a cruise ship. He's always dated dancers, so he felt it was time to create a song about them. After spending two months isolated on a cruise ship in the Bahamas, Bobby decided to head over to Zante to film the music video to match the summery vibe of the track.
"I want it to be a song that really makes people feel good and happy! The song tells a story and I wanted to make sure that the video brought the lyrics to life."
Find and Follow Bobby J
Instagram | Facebook | Spotify
Learn more about Music Gateway here
Release ID: 88985299