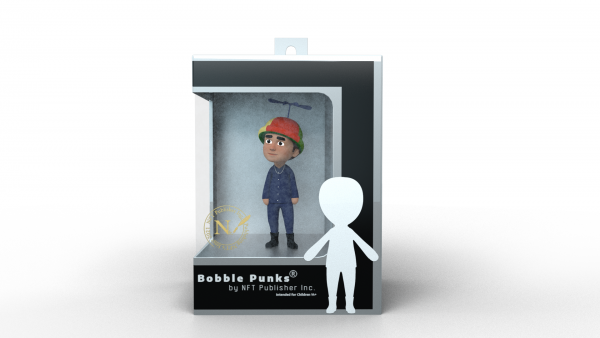 - September 29, 2021 /PressCable/ —
Bobble Punks have been launched as a popular collectible with real-life versions paired with NFC as a record of rarity and authenticity. NFT Publisher Inc now offers a real-life replica of the blockchain NFT designer toy to the first 10 subscribers.
More information can be found at: https://www.bobblepunks.com
As the creators of NFT collectibles, NFT Publisher's strategy is to release 100 unique Bobble Punks with 100 editions of each one on the blockchain. If a buyer is among the first ten to be allocated a unique character, an exact "real life" replica of the Bobble Punk containing an NFC chip will be shipped to their address.
The key to an NFT product's value is in its rarity, and the Bobble Punks collection is distinguished by character type, gender, suit color, hairstyle, facial hair, headgear, accessories, and facial features.
There are 100 individual Bobble Punks that have been created by NFT Publisher Inc., each with 100 editions on the blockchain, meaning there are only 10.000 punks in existence. Features are considered Rare if present on 10% or fewer Bobble Punks, and features that are present on just 1% are considered Legendary.
The NFC chip is a significant development in the bridging of NFTs and real-life collectible merchandise, as it guarantees authenticity in a market where counterfeits have been a longstanding problem for collectors and traders.
This innovative technology is the same as that used for Apple and Android pay and is trusted worldwide. These NFC chips switch their associated links every 2 seconds, making them virtually impossible to replicate, and therefore increasing the security and value of the Bobble Punks. They will no longer require independent validation, so collectors and traders will be able to scan the NFC chip with any mobile device and sell and trade easily, both in real life and on the blockchain.
When asked why customers should invest in Bobble Punks, NFT Publisher Inc. has said "Why Buy a Bobble Punk? Simple: Be a part of the first-ever NFT collection to exist both in the real world and on the blockchain."
Full details about NFT Publisher Inc. and their Bobble Punk collection launch can be found here: https://opensea.io/collection/bobble-punks
Release ID: 89044563