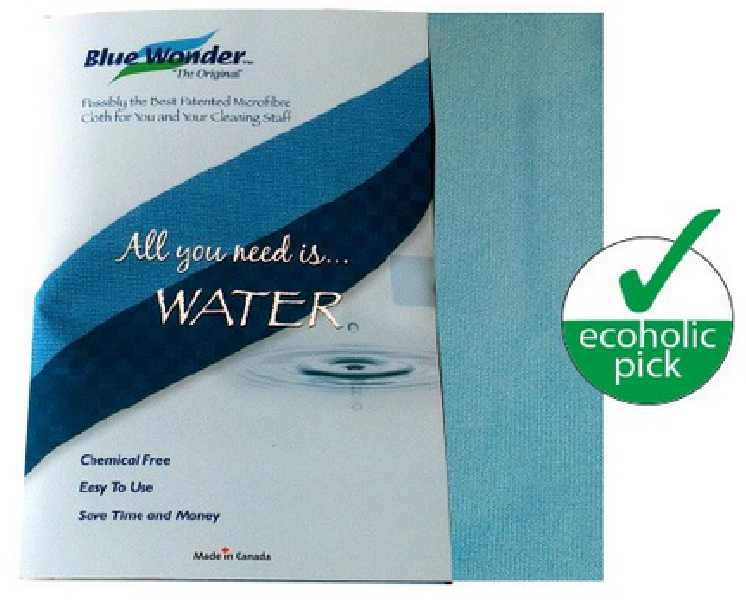 - November 1, 2014 /PressCable/ —
FOR IMMEDIATE RELEASE
Blue Wonder Micro Fiber Cloth Wins "Ecoholic Pick" Award Again
October 30, 2014 - The Blue Wonder™ Classic Cloth was chosen as the best go green, eco-friendly, house cleaning micro fiber cloth in 2009. Once again the same cloth has been given the "Ecoholic Pick" award in 2014.
The Ecoholic Pick is conducted by Adria Vasil, the author of the Ecoholic Body and Ecoholic Home. By receiving this award, it means that of the brands chosen and tested, Blue Wonder™ out-performed the rest and was nominated as the best micro fiber cleaning cloth.
The Blue Wonder™ Classic Cloth being the recipient of the "Ecoholic Pick" award for 2014, was viewed to be a family favourite and it's made in Canada (in BC)! 
Adria Vasil says, "My mom's had hers for over five years and swears it holds up best over time. (Just boil it now and then, like with other micro fibre cloths.) Love that one is not expected to buy five different cloths for different functions; Blue Wonder's Classic Cloth will do windows, glass, stovetops, pots and pans, cars, electronics, chrome, sinks etc. More scrubby than the Wipe & Glow, and way more durable."
Also, in 2009, Blue Wonder™ was given the "A clean freak's dream" award and was described to be… "Bottom Line: With a quick wringing, this one goes from wet cleaning to dry dusting fastest. No wonder everyone from my uber-clean parents to the chem-sensitive love this thing. It definitely delivers."
Blue Wonder™ micro fiber cloths are a favourite house cleaning and window cleaning tool. This eco-friendly cleaning product is recommended by maid services and customers to family members and friends as their favourite cleaning cloth. The cloth gives great results, is fast and easy to use and makes going green effortless.  The best eco-house cleaning tip is use Blue Wonder™.
BlueWonder™ cloths are made in Canada and can clean the toughest jobs. It works on multiple surfaces with water only. They are very durable even under heavy use and will last for years and provide a sparkling shine, without streaks, every time without the use of chemicals or paper towels.
The brand is ahead of its time as it was "eco green" long before being environmentally friendly or creating eco-friendly, non-toxic, or chemical free products was even trendy!
BlueWonder™ has become one of the most popular micro fiber cleaning products on the market today with a growing line of go green eco-friendly cleaning supplies that are environmentally friendly and help people achieve a better quality of life in less time.
Using a unique patented heat-weaving process that blends the polyester and nylon, BlueWonder™ micro fiber cleaning cloths magnetically attract dust and dirt, therefore, eliminating flying dust particles. Blue Wonder™ micro fiber products are ideal for people who suffer from chemical sensitivities, allergies and asthma.
BlueWonder™ micro fiber cloths have been laboratory tested to remove 99.9% of bacteria. No more chemical cleaners, no more dust particles in the air, just naturally clean with Blue Wonder™ and water.
Celebrate the latest award by using Coupon Code: mspr1-1214 to receive free shipping, within North America, on all orders over $25 until December 31, 2014. Get and give the best quality, top of the line micro fiber cloths.
Contact Blue Wonder™ now and create a cleaner greener eco-friendly healthy home. Visit the website at http://www.bluewondercloth.com/ or order by phone 1-888-343-2583
Release ID: 67117