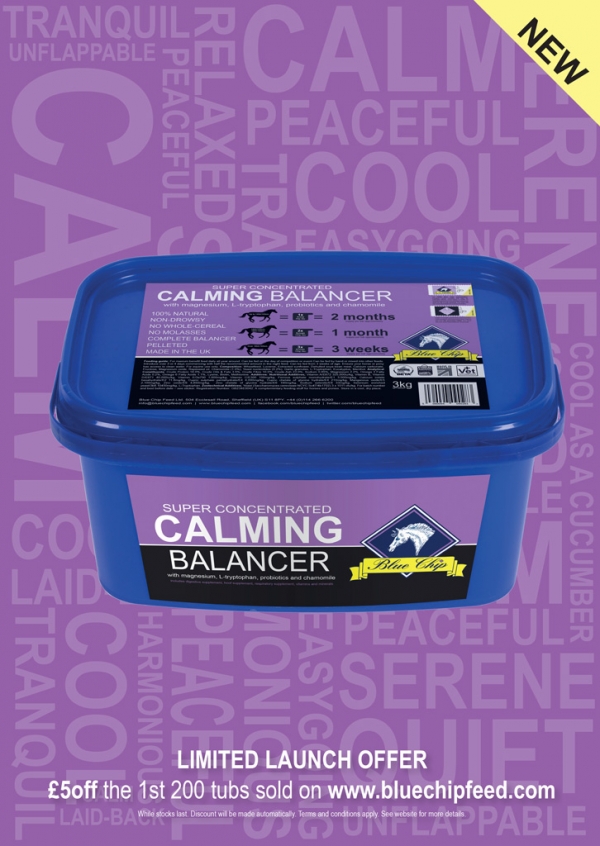 - August 6, 2015 /PressCable/ —
In a exciting change of pace, the most trusted & recognised Equine Supplement Brand in the UK "Blue Chip Feed", will be celebrating the launch of its the first super concentrated balancer by giving £5Off the first 200 tubs sold. It's reported the event will take place on 6th August.
In a space where most competitors simply launch and keep quiet about it and fail to cause much of a stir, Blue Chip Feed has opted to be a little more exciting with it's Super Concentrated Calming Balancer launch.
Clare Blaskey, Founder at Blue Chip Feed, says: "We wanted to be exciting with the first super concentrated balancer launch because we wanted to give our loyal customers the opportunity to try out the new revolutionary balancer and we thought it would be the best way to ship out the first batch in order to get that all important customer feedback. It should be really worthwhile and we're hoping it makes the new Super Concentrated Calming Balancer as popular as our current best seller. It should go great unless the whole internet crashes down on launch day!"
When asked about the new Super Concentrated Feed Balancer, Clare Blaskey said: "We think it's going to be a real hit because we found that horse and pony owners want a balancer that also combined a calmer to make feeding easier and more beneficial to the horse's digestive system, something easy to carry home from a feed store, and easy to be delivered if ordered online. They wanted a product that was simple to use, that made their horse or pony look fantastic but kept them extra settled and focused. So Blue Chip Super Concentrated Calming Balancer was developed!"
Known for being at the forefront of modern nutrition Blue Chip decided to go a stage further and due to advances in manufacturing processes and ongoing research into optimum feeding techniques, Blue Chip have been able to create the first super concentrated balancer which incorporates the beneficial ingredients in Blue Chip Original along with the powerful combination of Blue Chip Karma.
Like all of the Balancers the Blue Chip Super Concentrated Calming Balancer is whole-cereal and molasses free making it very low in sugar and starch and contains the optimum levels of vitamins, minerals and nutrients required on a daily basis. The complete hoof formula 'SoundHoof' which contains biotin, methionine and organic zinc and the respiratory package 'PrimoVento' which combines garlic, menthol and eucalyptus are incorporated, along with the revolutionary ingredient Nucleotides which can aid nutrient absorption, recovery rates and immune response.
Blue Chip's powerful ingredients in their best-selling liquid calmer have been included in this new balancer which incorporates an easily absorbed form of magnesium and L-typtophan. Blue Chip have also added Chamomile which is renowned for its calming effects, along with a probiotic yeast to help soothe the digestive system.
Horse's digestive systems are designed to process food in small quantities and feeding large amounts of 'hard feed' can cause digestive upsets and have greater health implications.
Blue Chip Super Concentrated Calming balancer has been created for optimum digestive health. It is reported that the amounts that are needed are so small that it can be fed from your hand or with any other feed as required.
Super Concentrated Calming Balancer is set to launch 6th August. To find out more, it's possible to visit www.bluechipfeed.com/product/super-concentrated-ca…
For further information about Blue Chip Feed, all this can be discovered at www.bluehipfeed.com
Release ID: 88378