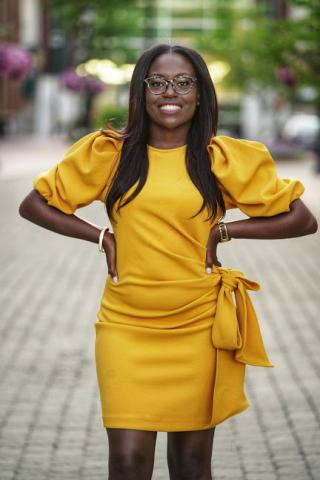 - November 11, 2020 /PressCable/ —
Inspire Me! Everything I Can Be from A to Z inspires children to learn about different careers, explore passions and interests, expand their minds, and dream big! Inspire Me! Everything I Can Be From A to Z sparks children's curiosity regarding different careers and educational fields that are not usually introduced in the K-12 settings. Most importantly, Inspire Me! Everything I Can Be From A to Z provides representation for Black and Brown children because children deserve to see representation in books, careers, and educational fields.
Dr. Evans is always excited about educating and sharing information with others. Therefore, Dr. Evans started the Inspire Me Children's Book Coaching Program to assist future authors with writing and self-publishing a high-quality children's book, teaching them the ins and outs of launching a successful Kickstarter Campaign, and motivating them to launch children's products, clothing or accessories to complement their book.
Dr. Evans is dedicated and committed to philanthropy. Always willing to give back, Dr. Evans has partnered with local organizations in Cleveland, Ohio to provide free programing and copies of Inspire Me! Everything I Can Be from A to Z to disenfranchised children. Further, she has founded the InspireHer Movement, which provides feminine hygiene kits to young girls and women in schools, group homes, shelters, and more.
About Dr. Evans
Dr. Evans received a Double Bachelor's Degree, Master's Degree, and Doctoral Degree by the age of 25! As a world-renowned research scientist, educator, international speaker, and author, Dr. Evans is changing the game and helping others along the way! She is a Tenure Track Assistant Professor of Health Education and Promotion in the School of Health Sciences for the College of Education, Health, and Human Services at Kent State University. Moreover, she is the Director of the Research and Education Collaborative for Health Disparities. Her research agenda focuses on examining health disparities and minority health with an emphasis on examining maternal, child, and infant health, exploring patient-provider communication, and investigating women's health utilizing quantitative and qualitative methodological approaches. She has received national and international grants, worked with several community-based organizations, presented nationally and internationally, and has been published in top-tier peer-refereed journals.
Dr. Evans is the Chief Executive Officer and founder of Inspired Minds Consulting Firm, LLC. The mission of Inspired Minds Consulting Firm, LLC is to provide high quality, comprehensive, and evidence-based research, training and professional development courses, and thesis and dissertation coaching. She has conducted workshops, panels, guest lectures, and seminars to educate, mentor, and trained hundreds of undergraduate, master, doctoral students, and professionals in the field.
To Book Dr. Evans, visit http://www.drnatashaevans.com/
Release ID: 88983599