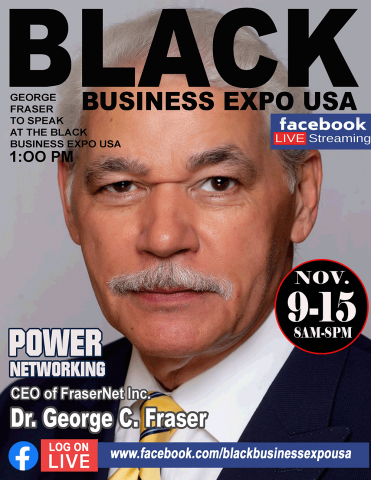 - November 4, 2020 /PressCable/ —
The Black Business Olympics!
Dr. George Fraser and America and Leading entrepreneurs and Business Experts to Discuss the Keys to Business Success in Today's Highly Competitive Marketplace at 2020 Black Business Expo USA.
Black business Expo USA (http://www.blackbusinessexpousa.com), one of the nation's leading provider of business matchmaking solutions to corporations for community engagement, diversity inclusion, and economic development has announced the speaker line-up for its 2020 Black Business Expo and conference. The BBE's 12th annual conference will be held on Facebook, seven days from 8 am to 8 pm The event will raise ten scholarships for students graduating from high schools and give those students up to ten thousand dollars in funds to attend area colleges. One of the largest business showcases in the history of black America in North Carolina.
With the theme Economic Inclusion, the conference will address all aspects of the Business marketplace, providing CEOs, entrepreneurs, business and corporations with innovative strategies and best practices on how to build stronger, more profitable relationships. The conference's extensive speaker line-up includes: Keynote speaker CEO, Frasernet CEO considered one of North America's leading networking visionaries, hosted by internationally acclaimed actor and impressionist, comedian Dr. James Stephens III, House Representative Zack Hawkins, Award-winning Poet and North Carolina's ninth poet laureate Jaki Shelton Green, Sharon Hunter Rainey of HR Solutions, Digital design specialist Angel Green of Artistic App Design;" Kimberly McClain Creative Force marketing, a social media expert, Digital Strategy expert Dominique Hart, US Industry Leader Michelle Weathersby, LinkedIn specialist, recognized as one of Forbes Coaches Council executives, Antonio McCoy Business growth strategist.
The conference will offer an extensive business track for seven days with speakers from Pamela Gail of Wake County Schools Hud program who has received countless Diversity awards and honors, Allstate's Gerald Stone, Maxine Phillips, The Boss Lady Michelle Barrow of Keaton barrow Realty, Derick Drakeford of Drakeford & Associates, Renee Daughtry of Cisco Systems, Dianne Pledger of the pledger Group, Latasha Best-Gaddy of the SBTDC, Phyllis Coley of Spectacular magazine and Rich Moore (CSBC) Carolina small business center, in addition to both Jason Redmond Infinity Benefits Group and Vickie Lee Parker of the North Carolina Business Council (NCBC). The event will have elected officials Brenda Howerton and Sheriff Clarence Burkhead along with many others.
The conference has added a number of business sessions, addressing a wide range of topics, including marketing strategies, social media, psychographics, and brand building, with speakers from across the state. "This is our virtual expo like no other seven days with George Fraser speaking on three-day about networking, wealth building, and entrepreneurship. This year the expo over the course of seven days will be providing business to business connections with the most comprehensive educational forum available, delivering vital knowledge and strategies for building and managing effective business relationships," noted Eric Kelly III, BBE president, and CEO. "The Expo and conference offer real business and marketing solutions for today's marketplace, as it brings together the expertise and straightforward dialogue that will help business and corporations successfully grow their business networks while increasing their value to their communities."
This year, Black Business Expo is excited to partner with SpokeHub as our official digital platform for networking, conversation, and connection. SpokeHub is an African-American owned business that has established itself as the first content delivery platform to use Augmented Reality (AR) to unite people through unique experiences while delivering real-time data analytics. By using unique experiences, any assets (logos, images, designs, etc.) can be activated through AR, bringing the content to life. Participants will love the captivating experience and be driven into a hub for instant feedback and engagement. While customers are engaging, SpokeHub is aggregating the voice of the community in a real-time data analytics dashboard. The SpokeHub analytics suite provides organizations with hindsight, insight and foresight; allowing them to always have a pulse on the sentiment of the community and in turn make better decisions faster.
Attendees can download SpokeHub in the iTunes App Store or Google Play store and join the Black Business Expo hub to network before, during, and after the event. The Black Business Expo is excited to offer a unique and innovative way to connect with each other. Download the app now and join fellow attendees, experts, and speakers for all things Black Business Expo.
Business and Corporations interested in attending The Black Business Expo USA can visit the event's website, www.blackbusinessexpousa.com
What is Black Business Expo USA – Black Business Expo began in the late nineties and has flourished to be one of the largest business showcases in North Carolina. After spending time creating dynamic networking events, the black business expo under the leadership of Angel Green and Dr. Eric Kelly III has reached a resurgence and popularity with businesses and corporations throughout the state. Black Business Expo focus is on raising scholarships for high school students to go to college or to be CEOs, entrepreneurs, business owners.
Black Business Expo is one of America's BIGGEST Business-to-Business Trade Show, Conference & Networking Event for Corporations and Business Owners, Entrepreneurs in North Carolina
Black Business Expo USA has been recognized four years in a row as an Inc. 5000 fastest-growing privately held company celebrating its twelfth Year Anniversary.
Our focus is on targeted learning, networking, building valuable new business relationships & finding top vendors that help Business Owners take strategic action to immediately improve their Businesses.
Black Business Expo USA is the place to get inspired, ignite your Entrepreneurial Spirit, and continue your ongoing path to SUCCESS! At this FREE one-day event hosted in Durham, NC where passionate Business Owners will connect, network with vendors in various industries, and learn from the best in business about how to solve their most pressing business issues.
Black Business Expo USA Highlights Include:
Showcases of Black Business Expos throughout the country
FREE to attend means serious ROI
Seminars presented by Industry Experts
Business-Critical Workshops to drive immediate business growth
Speed-Networking Sessions that create new opportunities
Release ID: 88984210