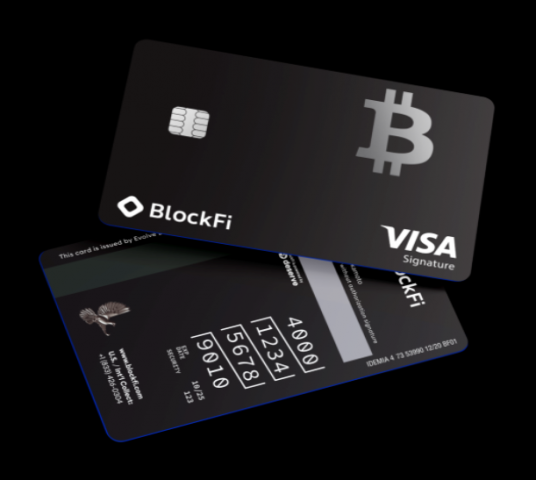 - June 29, 2021 /PressCable/ —
Visa has launched a new partnership with BlockFi to offer the first-ever credit card which rewards users with Bitcoin. Card users will receive 1.5% cashback accrual for every transaction they make with a BlockFi Visa, which will be converted to Bitcoin and placed into their BlockFi account.
For more information please visit https://getsomebitcoinnow.com
The partnership launched between Visa, BlockFi, Evolve Bank, and the credit card firm Deserve, will offer US customers the first of its kind chance to be rewarded for purchases directly with Bitcoin. While other services have offered points or miles, no service before this has ever directly translated cash back into Bitcoin tokens.
The earned Bitcoin is considered standard funding and can be withdrawn, left to earn interest, traded, or used as collateral. Due to the nature of Bitcoin, the card has no foreign transaction fees and also has no annual fee. For new users, there is an offer that provides 3.5% cash back in Bitcoin on purchases made within the first three months of card ownership.
For clients who spend more than $50,000 annually using their BlockFi Visa the rate of cashback to Bitcoin increases to 2% for anything over that amount. It is possible to determine whether or not a client will be approved for a BlockFi Visa without any impact to their credit rating, by visiting this link https://blockfi.com/credit-card-waitlist/?r=aiiSf
There is a waitlist for the newly launched BlockFi Visa, so those wishing to apply may want to do so soon, in order to receive their cards as soon as possible. There is no commitment needed to apply, but the company has not announced yet how long it will take for the cards to begin shipping.
Those applying for the new card may also consider opening a BlockFi account to earn additional income from their new digital assets. The accounts come with no minimum balance requirements, so new clients still learning about cryptocurrency are not required to make large investments.
Many users of BlockFi find a Coinbase account to be helpful, as it allows them to make other cryptocurrency purchases to diversify their investments. Currencies purchased through Coinbase can be sent to a user's BlockFi wallet. It is also possible to link a bank account to the application, which allows for easier transfer of funds when users buy, sell, or withdraw their cryptocurrencies.
To learn more or apply for a BlockFi Visa please visit https://getsomebitcoinnow.com
Disclaimer: The information provided on this page does not constitute investment advice, financial advice, trading advice, or any other sort of advice and it should not be treated as such. This content is the opinion of a third party and this site does not recommend that any specific cryptocurrency should be bought, sold, or held, or that any crypto investment should be made. The Crypto market is high risk, with high-risk and unproven projects. Readers should do their own research and consult a professional financial advisor before making any investment decisions.
Release ID: 89028408