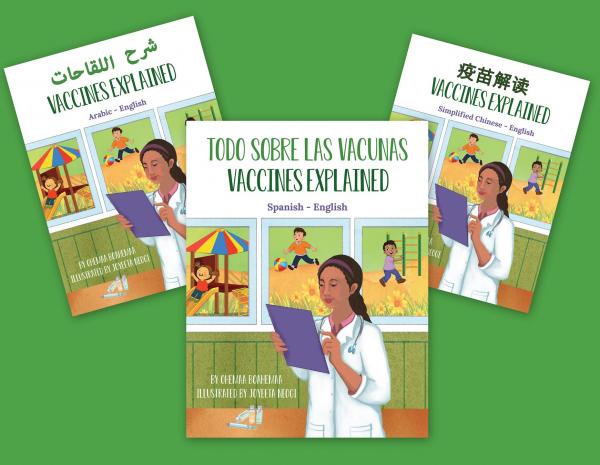 - December 2, 2021 /PressCable/ —
Vaccines Explained Aids Children in Understanding the Importance of Vaccines in Keeping Them Healthy
Basking Ridge, NJ – (December 2, 2021) Language Lizard, LLC recently released new language editions of their popular children's book, Vaccines Explained, being used by health departments and schools throughout the country. This unique book is written to educate children about vaccines as well as to help alleviate their fears about getting vaccinated, an issue with significant impact during the ongoing global pandemic.
Vaccines Explained was created to assist children and their parents in understanding the importance of all vaccines. Written by a public health expert, the book uses science to describe how vaccines work, their history, their importance, and why they are nothing to fear. The easy-to-read text alongside the colorful, multicultural illustrations make this a one-of-a-kind resource perfect for readers of all ages. Vaccines Explained is now available in English-only and as a bilingual book in 12 additional languages including Spanish, Arabic, Chinese, and the newly published languages Hindi and Swahili. The book includes a multicultural lesson plan, resources for additional child-friendly information on vaccines, and audio of the book.
"Vaccines Explained is a richly-illustrated and thoughtfully written book, ideal for explaining the concept of vaccines and germs for preschoolers through early elementary grades. The book gives parents and teachers many opportunities for conversations about how vaccines work against a variety of germs, and why vaccines are nothing to fear. The illustrations give plenty of opportunities to discuss what doctors, pharmacists, and scientists do, and how vaccines have helped people of all ages, all over the world. I recommend this timely book as an inspiration for family and classroom conversations."
– Michele Morrison, Training & Program Support Director, ParentChild+
Vaccines Explained by Ohemaa Boahemaa and illustrated by Joyeeta Neogi is available at www.LanguageLizard.com, Ingram, Kindle, and bookstores worldwide.
Language Lizard, LLC (www.LanguageLizard.com) is a leading supplier of bilingual products in over 60 languages. The company provides award-winning bilingual books and audio resources to schools, libraries, literacy organizations, and families. Language Lizard offers culturally responsive teaching materials, multilingual posters, and free multicultural lesson plans to support diverse classrooms and homeschoolers.
Release ID: 89054887