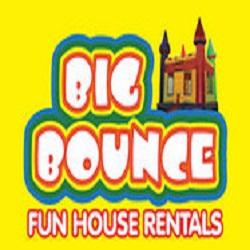 - June 30, 2018 /PressCable/ —
(Greencastle, IN) – Summer is prime time wedding season for many happy, loving couples. One of the more enjoyable plans is to hold the summer nuptials outdoors. Enjoying the sites and aromas of Mother Nature is a perfect way to host a ceremony while the vast green space offers the perfect platform for a large guest list. Big Bounce Fun House Rentals offers a full range of wedding rental services to help the loving couple organize their perfect day in the Greencastle area including help with the planning, equipment and venue rentals, music and entertainment, location venue, transportation services, and set up and take down. Susan Lorimer, company spokesperson, stated: "We are with our clients every step of the way, making sure that everything goes off without a hitch."
Lorimer also said "We are happy to help our customers choose the right location and set up for their wedding and then supply all the equipment they will need. We have the most current decorations, furnishings, and canopy tents host a beautiful wedding. We also have a horse and carriage to take the bride and her party to the alter." Some of the most popular arrangements include a photo booth, dance floor, large canopy tents with detachable sides, linens, a stage, and elegant pillars.
When customers rent any product from Big Bounce Fun House, the company's staff arrive before the big day to do all the set up and take down. "Sometimes our clients will offer to pick up and set up the equipment themselves," Lorimer reassured, "but we believe that it is extremely important to have our professionally trained and highly experienced technicians prepare the equipment to make sure that everything is set up properly and correctly to ensure safety." Big Bounce Fun House can also provide other types of services to meet happy couple's needs including a fully serviced lake view wedding barn for a memorable romantic country setting and a full catering service to feed your guests.
Big Bounce Fun House Rentals is committed to helping couples plan the most beautiful wedding day and offer these tips to the bride and groom. "Plan the day that you want and enjoy every moment of your special wedding day," advised Lorimer. For more valuable tips, couples can check out their website at bigbouncefunhouserentals.com.
About Big Bounce Fun House Rentals
The owners of Big Bounce Fun House Rentals have over 20 years' experience in the rental industry. Their experienced staff are professionally trained and can help make any wedding day successful. They provide the most personalized attention to every client to make sure all their needs are completely met. Big Bounce Fun House Rentals works with couples, corporations, school groups, churches, towns, and sports teams. Big Bounce Fun House Rentals help their clients during every step to their planning from the initial ideas to the set up and take down of the rental equipment. They have the most current and new rental products available for any event including inflatable funhouses and interactives, Segway's, life size games, DJ music, casino games, relaxation rentals, and so much more. The company offers a full range of services for different events including tents, furnishings, stage, transportation, and anything else your occasion might require.
Release ID: 369581