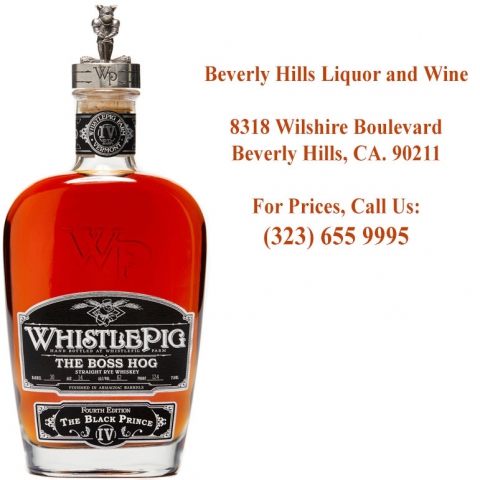 - December 12, 2017 /PressCable/ —
Los Angeles Liquor Store Briefly Offers 'Best Whiskey in the World'
Beverly Hills Liquor and Wine Now Carrying Award-Winning The Boss Hog Straight Rye Whiskey Fourth Edition, "Black Prince" by WhistlePig Whiskey
Los Angeles — Dec. 12th, 2017 — A Beverly Hills liquor store is introducing WhistlePig Whiskey's award winning Black Prince Fourth Edition, a unique domestic rye called "the best whiskey in the world."
The liquor store, located at 8318 Wilshire Boulevard, is making available the ultra-high-end whiskey at $900 for a 750 ml bottle. The decadent, barrel-aged rye whiskey crafted by WhistlePig distillery in Shoreham, Vermont will be on sale both in store and online for a limited time.
WhistlePig's Black Prince is the distillery's newest award-winning release. The 14-year-old, 100 percent rye whiskey has an original American provenance (MGP). It was partially aged in Armagnac casks (a brandy made from aromatic white grapes) before it was bottled at cask strength.
Black Prince is the fourth edition of WhistlePig's Boss Hog line, the brand's premier offering.
Black Prince is available at Beverly Hills Liquor and Wine while supplies last.
"Black Prince is a rye whiskey for the ages. We're positively thrilled to offer this very special sipping whiskey to our customers," said Benny G., spokesperson for Beverly Hills Liquor and Wine. "WhistlePig's latest release makes the ultimate holiday gift for any lover of high-end spirits. Make sure to get yours before it's gone."
According to WhislePig Distillery, Black Prince is a tribute to the great spirits of Europe. The nose is of toasted almonds, plum, fig, allspice and warm apple crisp. The palate is bold, suggesting apricots, cloves and cinnamon sugar. Adding a drop of water enhances notes of citrus fruit and black tea. The finish is exceptionally long, with notes of burnt sugar, toasted marshmallows, dried fruits and a gentle oak spice.
"On the nose, The Black Prince immediately shows intensity, with deeply caramelized notes of brown sugar and molasses, chased by macerated dark fruit and hints of stone fruit," said Jim Vorel of Paste Magazine in his Black Prince review. "Consumed neat, The Black Prince brings massive flavors to the palate. Huge fruitiness is the signature, dripping in caramel and baking spices. We're talking explosively flavorful whiskey here, and pretty intense booziness… All in all, another very memorable whiskey from WhistlePig."
In his article "Is WhistlePig's Boss Hog: The Black Prince the Best Whiskey in the World?" reviewer Viju Mathew writes in the Robb Report that "what makes the distillate so distinctive is that it's the first rye to ever be finished in casks formerly used to age the French brandy Armagnac."
Margarett Waterbury of The Whiskey Wash said that "While the price may be astonishing, so too also… is the whiskey itself."
"Yum. Delicious. I loved this," she wrote in her review. "Big, brash, and shameless in flavor profile and price… If money is no object, go forth and pillage!"
For more information about Whistlepig Whiskey at Beverly Hills Liquor and Wine and to order the whiskey online, go to Beverly Hills Liquor and Wine
About Beverly Hills Liquor and Wine
Beverly Hills Liquor and Wine boasts an expansive selection of spirits, fine wines, affordable beverages and more. The store's knowledgeable staff have extensive knowledge of wine, beer, and spirits and can help customers find the perfect beverages for any situation. In addition, Beverly Hills Liquor and Wine includes one of the area's biggest selections of Kosher spirits. They also offer fresh-made sandwiches, sliced meats, and cheeses at their full-service deli. Stop in the store or shop online at https://www.beverlyhillsliquorandwine.com.
Release ID: 276489