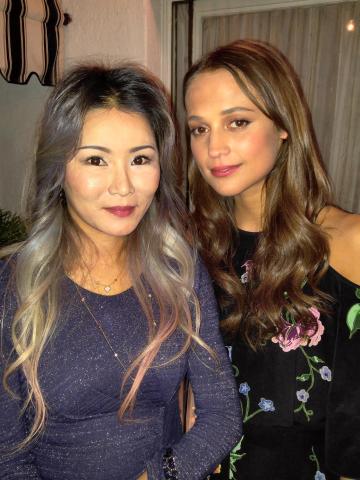 - February 15, 2019 /NewsNetwork/ —
An award-winning artist and World Champion Bodypainter, Hyewon shares beauty services she has performed on numerous high-profile celebrities including Kate Winslet, Lady Gaga and David Beckham. The highlight of her career remains the presentation on live TV of her creations, by the prestigious Korean Makeup Association, to South Korean former President Geun Hye Park.
Hyewon's creativity and dedication to high standards of service quality is reflected in her exclusive clientele, which includes Madame Tussauds, Ealing Studios, the BBC, ITV, Channel Five Productions, Warner Bros, Momentum Pictures, Samsung, Tatler, Vogue, The Guardian, Ray-Ban, Christian Dior, Alexander McQueen, Alice Temperley, Michael Clark and the Vivienne Westwood, among many others.
Her work has been seen in feature films such as the Harry Potter series and episodes of BBC's Dr Who.
In addition to her work on numerous high profile projects, she also has credits including teaching master classes for the Royal Opera House in London, the Kryolan Charles Fox in Germany, Dubai, Korea and the United Kingdom. She is qualified and equipped to teach classes in body painting, special effects, airbrush and theatrical makeup.
More information can be found at http://hyewonahn.com
Hyewon's journey began with an education at the Neill Gorton Prosthetics Masterclass, the Carolyn Cowan Body Painting Masterclass, the Central Saint Martins College of Art and Design and the University of Arts London.
Her career in makeup design started in 2001 with the KBS Broadcast Network and the Opera House in South Korea. She then moved to the United Kingdom where she studied at the London College of Fashion, graduating with a BA in costume, technical effects & makeup for the performing arts, being the first to ever receive this type of degree.
Awarded a finalist place in the 2007 BBC Vision Design Competition for Make-up, she went on to become the 2012 World Champion at the International Body Painting Festival in Asia.
A leader and innovator in her field, Hyewon uses an advanced application procedure derived from special techniques learned during her work at Madame Tussauds in London. Focusing on extreme realism and attention to detail, these techniques involve the precise placement of human hair in follicles, the exact insertion of eyelashes, eyebrows and body hair, and the creation of a realistic skin color by using layers of tint and shade.
She is now based in Los Angeles and wants to help the public with professional makeup, wig design and body painting services that were previously only available to celebrities and movie studios.
Interested parties can find more information and contact her by following the link above.
Release ID: 482675