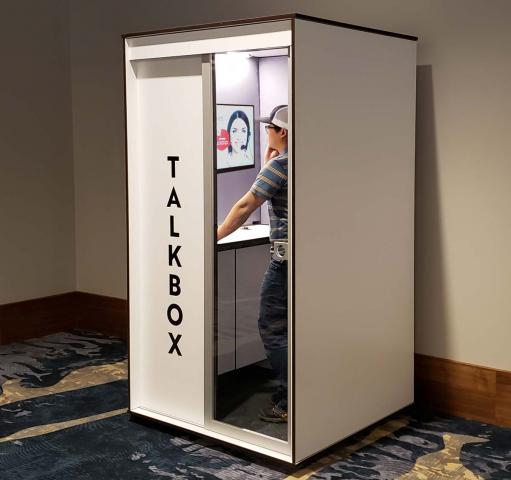 - February 5, 2020 /PressCable/ —
Teleconferencing is no longer the domain of huge multinational companies. Doctors officers, technical support teams and freelance experts are all searching for high quality video and voice communication along with privacy, soundproofing and a specialized workspace.
"We're seeing workplaces like doctors' offices, hospitals and university medical centers increasingly going high tech. The teleconferencing solutions that they are employing means that many of these workplaces are searching for a private space for patients to discuss their challenges with a healthcare professional. Clinics are busy places and the idea of getting a construction crew to build walls, install soundproofing, privacy glass and getting another team in to install high-tech equipment is not only cost prohibitive, but it's also hugely disruptive. That's where our TalkBox VideoReady booths come in," explains Shamus Hogan, General Manager at TalkBox LLC.
A TalkBox VideoReady booth is a small, unobtrusive booth designed to block out the majority of external noise while giving the person inside the booth a comfortable, private space from which to conduct video conferencing, podcasting, tele-health sessions or deliver IT services. While their small footprint allows them to fit into almost any workplace, their spacious interior, adjustable lighting and ventilation fan allow for an enjoyable place from which to conduct business. The booths are fully customizable with branding and a variety of colors. The privacy booth can be as inconspicuous or outrageous in design as a client would like. Inside the VideoReady booth, clients find built in USB plugs, a power charging station as well as hardwiring and data capabilities.
"Privacy is at a premium these days. We're constantly surrounded by open concept spaces and collaborative work hubs. What experts need in order to take their work to the next level, is a cost effective solution to boost their productivity and the quality of their work and that's one of the reasons the VideoReady booths are a popular option for so many," says Hogan.
TalkBox, the manufacturer of VideoReady booths, employs cutting edge technology and industry leading standards in its manufacturing process. All booths are made in the United States using materials that, whenever possible, are sustainably sourced and recyclable.
"We know people are going to spend a great deal of time in the booths. That's why we make sure they are a productive and healthy space for our clients," explains Hogan. All TalkBox booths are fully compliant to TSCA Title VI and CARB II for Formaldehyde Emission Standards, meaning that products are compliant with the legal requirements outlined by the Environmental Protection Agency and the California Air Resources Board.
"Everything we do as a company comes down to caring about our clients and ensuring that we have the best teleconferencing privacy booth on the market. We manufacture our booths in the United States so that we can be assured of the standards in our manufacturing facilities. We hire American workers and we pay them a fair wage because we know they have an unparalleled safety record and they produce good quality work each and every time. Our commitment to quality, the environment and the safety all shine through in each of our VideoReady models. It's why leading companies like Google, Pfizer and Toyota order from us and continue to trust us with increasing the productivity of their workforce."
About TalkBox
TalkBox was one of the first privacy phone booth companies and is a pioneer in bringing highly customizable booths to noisy and open-space environments. The company launched in 2015 as a Red Idea LLC Launch Works company.
Release ID: 88944927