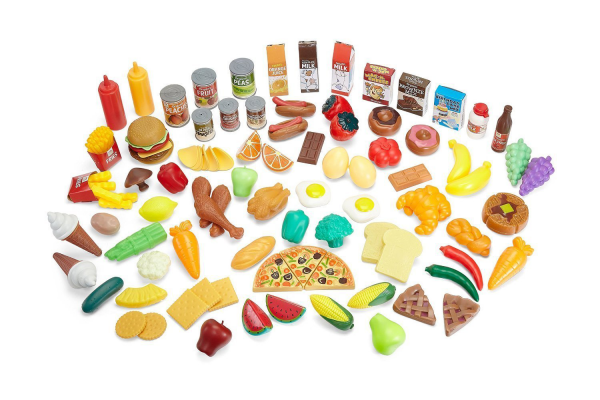 - November 8, 2016 /PressCable/ —
Company spokesperson Elsie Murphy stated, " We understand that the holidays are fast approaching, and this time of year can be very expensive and cause financial difficulties on families. We want to do our part, and have decided to lower the price on our toy food set for a limited time, to make it more affordable for everyone."
The Mommy Please 125-piece play food set is ranked the #1 best-selling plastic play food set on Amazon.com. The set is made of BPA-free plastic that is colorful, durable, free from any harmful chemicals, and safe for children ages 3 and over. The play food set contains a large variety of foods from all food group, including tomato, lettuce, lemon, waffles, crackers, peppers, potatoes, apples, bread, oranges, juice, watermelon, milk, mushrooms, hog dogs, cheese, pizza, hamburger, ice cream cone, strawberries, asparagus, pie, chicken, cucumber, bananas and more. Both healthy and non-healthy choices are included, to allow children to learn and explore different food items. Some of the food products contain labels with nutritional information, so children can begin to learn about healthy options for meal planning.
Over 50 satisfied customers have written reviews on Amazon for the plastic play food set. One happy customer that is a verified purchaser wrote, "Over the past 20 years, I have purchased many sets of toy groceries. I am more than willing to pay for quality items that will last through multiple children playing with, biting on, stepping on, and then there are the pickers, that cannot help themselves but to pick at stickers, labels, etc. And because I have different ages of children in my private home childcare, I have 2 separate rooms set up with age appropriate items in each. When I received this set, I thought I would have to put all of it into the preschool room, because I assumed it would not be sturdy enough to withstand the toddlers. My assumptions came from previous purchases of large boxed sets of pretend food, and how quickly they had bite marks, dents, holes, and in general, were a waste of money. But after looking through all of the items, I realized that most of it would be appropriate for the toddler room, and the items that needed to be used in the preschool room would not be missed by the younger children. The preschoolers are more careful with, and understand how to play with cardboard replicas of milk containers, brownie and cake mix boxes and plastic cans of fruit with paper labels. And I honestly always do the nibble test on toy groceries before deciding which age level kitchen area they are appropriate for, and was really impressed with how many of the items in this set passed the nibble test with flying colors. There is a huge selection of food items, and the attention to detail is obvious. I definitely recommend this set to anyone with age appropriate children."
Mommy Please is uncertain how long the flash sale will last, and customer are encouraged to order early to ensure that the play food set is in stock. The flash sale price is $19.97, and all Amazon orders with totals of $49 ship for free.
About Mommy Please: "Mommy Please has worked tirelessly to bring children a play set that will never cease to keep their imaginations going. We strive to ensure that happiness, education, and creativity are all incorporated into play time every single day. As a company that focuses on family values, Mommy Please intends to influence the lives of families around the world."
Release ID: 144175