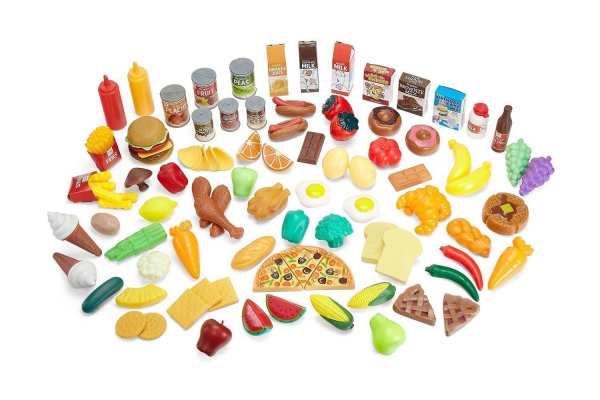 - March 6, 2017 /PressCable/ —
Mommy Please has so much to celebrate. Their best-selling play food set has been sold on Amazon.com for just over one year now and continues to be a customer favorite, receiving great customer reviews.
"This has been a very exciting first year for us," explained Mommy Please spokesperson Elsie Murphy. "Sales have continued to increase, exceeding our projections and forecasts. We have had to increase production five times this year in order to keep up with the demand. On top of that, our wonderful customers have taken the time to go to our Amazon.com listing and leave product reviews for our play food set. Over 360 reviews have been received so far, with ninety-seven percent of customers writing that they like our play food set. We are so grateful for this, and know that we have a quality product that people want."
The play food set was designed to help teach children healthy eating habits through play. The toys are BPA-free and shatterproof – designed for children ages three and up. Customer reviewers commented on the level of fun their children have with the play food and the variety of food options contained in the 125 piece set. Children around the world play with the Mommy Please play food for hours, engaging in imaginative play while learning. The play food set contains a large variety of items, and each of the items are detailed and realistic.
One review on Amazon.com from Cindi M. Thorton states: "Over the past 20 years, I have purchased many sets of toy groceries. I am more than willing to pay for quality items that will last through multiple children playing with, biting on, stepping on, and then there are the pickers, that cannot help themselves but to pick at stickers, labels, etc. And because I have different ages of children in my private home childcare, I have 2 separate rooms set up with age appropriate items in each. When I received this set, I thought I would have to put all of it into the preschool room, because I assumed it would not be sturdy enough to withstand the toddlers. My assumptions came from previous purchases of large boxed sets of pretend food, and how quickly they had bite marks, dents, holes, and in general, were a waste of money. But after looking through all of the items, I realized that most of it would be appropriate for the toddler room, and the items that needed to be used in the preschool room would not be missed by the younger children. The preschoolers are more careful with and understand how to play with cardboard replicas of milk containers, brownie, and cake mix boxes and plastic cans of fruit with paper labels. And I honestly always do the nibble test on toy groceries before deciding which age level kitchen area they are appropriate for, and was really impressed with how many of the items in this set passed the nibble test with flying colors. There is a huge selection of food items, and the attention to detail is obvious. I definitely recommend this set to anyone with age appropriate children."
This organic pretend food set by Mommy Please is sold exclusively at Amazon.com, and is currently on sale for $24.97, with free shipping on orders over $49.
About Mommy Please: "Mommy Please desires nothing more than to bring education, prosperity, and (most of all) Health for children around the world. By providing an education tool known as the healthy organic play food set, Mommy Please is gearing its resources towards this single goals, hoping to touch the lives of children and parents around the world."
Release ID: 175399