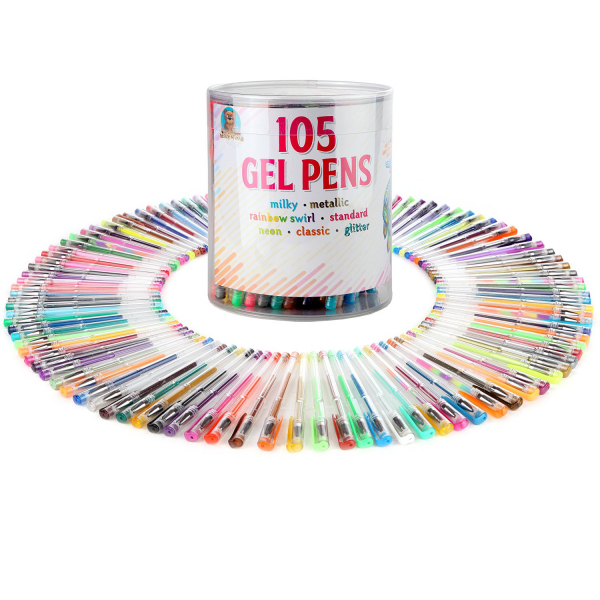 - January 2, 2017 /PressCable/ —
Since the launch of their 105-piece metallic gel pen set two months ago, Teddy Shake has gained a very loyal following of customers, far exceeding all sales projects that they had estimated for the launch.
"Clearly there is much more demand for our metallic gel pen set than we had expected," said Teddy Shake spokesperson Bailey Anderson. "We have received some great communications from customers, on why they like and prefer our gel pens. We want to work some of these thoughts into our new mission statement." For the next two weeks, Teddy Shake will still be taking additional feedback and input from customers as to what they feel should be included in the company mission statement.
The 105-piece metallic gel pen set by Teddy Shake is a far superior product than other gel pens on the market. First, the pens contain 60% more ink, which means the pens will last significantly longer. The gel pens are made with a special tip that does not bleed or skip when writing. The colors are so vibrant and contain such a large variety of shades that the Teddy Shake pens are perfect for use in adult coloring books, art or school projects, journaling, scrapbooking or just everyday writing where the writer prefers some color. The Teddy Shake metallic gel pens are non-toxic, acid and lead-free and safe for use by children.
Currently priced at $24.99, the Teddy Shake metallic gel pen set is sold exclusively on Amazon.com. Free shipping is available on any order of $49 or more.
About Teddy Shake: "Desiring to make the world a more colorful and creative place, we at Teddy Shake work every day to ensure you have the best gel pens sets on Earth. With hundreds of colors and various tones, we put our gel pens through massive Research and Development tests to make sure your creative flow never stops and your creations are always perfect."
Release ID: 158248