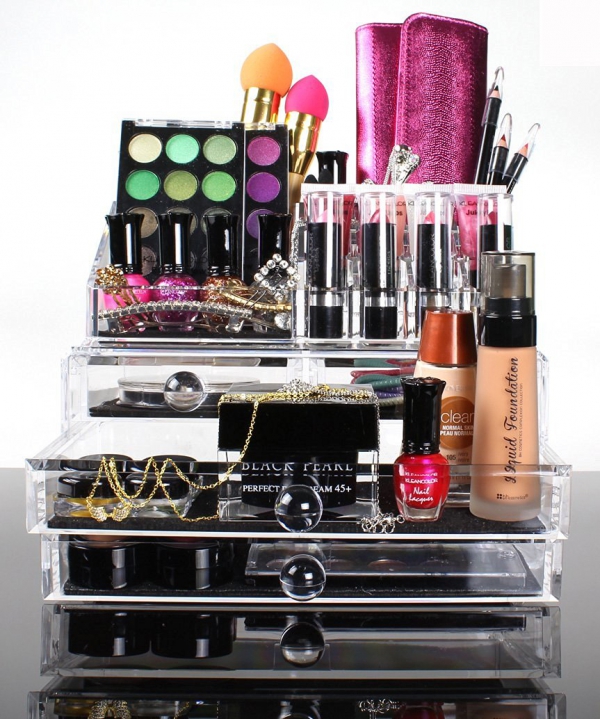 - November 16, 2016 /PressCable/ —
The Cosmopolitan Collection clear makeup organizer is the #1 selling acrylic makeup organizer on Amazon.com. To celebrate the success of their organizer, Cosmopolitan Collection has decided to update their "About Us" statement for the company.
"We have seen incredible growth in sales for the makeup organizer over the past year," said company spokesman Rob Bowser. "To say we are thrilled is an understatement. We want to see this growth continue to exceed our new, more aggressive sales goals. We believe that if we can explain to the customer more about who we are and what our values are, this can also help sales."
Over 100 customers have left reviews about the Cosmopolitan Collection makeup organizer on Amazon.com. 96% of customers state they like their makeup organizer. One verified purchaser left a five-star review and said, "This is made of acrylic, so it doesn't look cheap like plastic. It provides a lot of space to hold many items but is small enough that it isn't an eyesore. Definitely looks a lot nicer than having my cosmetics strewn about on the countertop or crammed into a makeup bag like they were. Highly recommend!"
The Cosmopolitan Collection makeup organizer is made of a high quality, durable acrylic that is shatterproof and scratch-resistant. The organizer is easy to clean, and is made of two separate units that can be stacked or used separately. Within the organizer are four drawers with easy to open handles and 16 other makeup storage compartments, that can hold everything from makeup brushes to lipstick, blush, and nail polish.
Sold exclusively on Amazon.com, the makeup organizer by Cosmopolitan Collection is currently priced at $29.97, which is 30% off the retail price. Free shipping is available for purchases over $49.
About Cosmopolitan Collection: "As an honest and ethical company, Cosmopolitan Collection focuses all energy, resources, and effort to organizing the world in a beautiful way. By creating a single, acrylic makeup organizer, Cosmopolitan Collection works to improve the world by bringing the best quality makeup organizer in the world to market so that all men and women can use and enjoy the product at a reasonable price."
Release ID: 146545