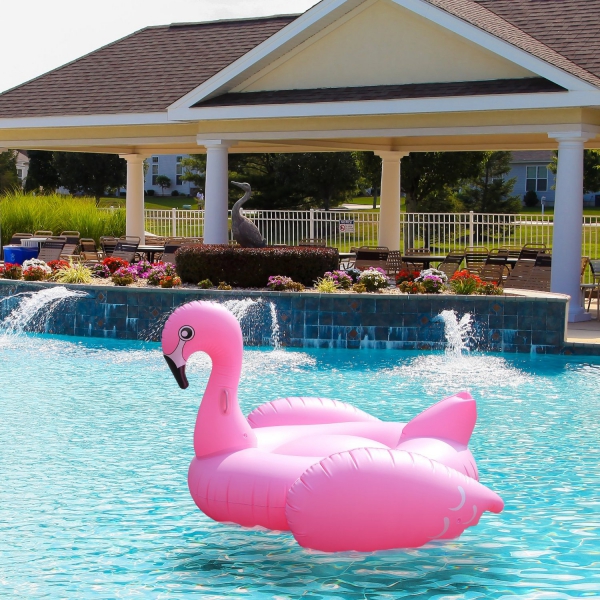 - December 28, 2016 /PressCable/ —
Teddy Shake just finished the first holiday sales season for their giant flamingo inflatable. Sales were strong, breaking all projections, and customer feedback was even stronger. Teddy Shake has decided to take that customer feedback, process it, and from it develop an updated Amazon.com product listing page.
"Our initial Amazon.com listing was built around the ideas we had when developing the giant flamingo inflatable," said Teddy Shake spokesperson Bailey Anderson. "Now that we have several months of sales and some great customer feedback, we can examine this information to decide what customers like most about our flamingo float. That information can then be used to develop an Amazon.com listing that is more informative and attractive for potential customers. Our hope is to build on this holiday success and continue to grow with strong sales of this pink flamingo float."
Currently, 200 customers have left reviews for the Teddy Shake giant flamingo inflatable, with 100% of customers stating they like their pink flamingo float. One recent five-star reviewer wrote, "I was sooooo super excited to get this! I didn't expect how big it truly was, but it is HUGE for sure! It is so sturdy that it even holds a large amount of weight. The kids absolutely love it! It's so much fun! It's made a thick material that is really durable. I've even had multiple kids and adults piled on it, and it works great still! Can't wait to use this next summer!"
The Teddy Shake 80-inch giant flamingo float is sold only on Amazon.com. The pink flamingo pool float is currently priced at $34.99, with free shipping on all Amazon orders over $49.
About Teddy Shake: "As relaxing as a Bahama breeze; Teddy Shake makes the world's most relaxing, fun, and quirky pool floats for you and your family. With constant R&D and innovative thinkers working to make the most incredibly pool floats and toys possible, we want nothing more than for you to have the time of your life."
Release ID: 157353