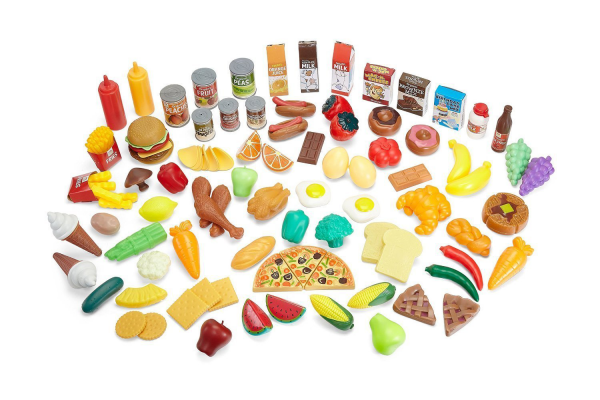 - October 19, 2016 /PressCable/ —
"We thought we had made generous sales predictions," stated company spokesperson Elise Murphy, "but clearly we were wrong! We are humbled and thrilled with the customer response to our play food set. We have increased production and will do our best to ensure that the food set remains in stock from this time forward."
Made from BPA-free plastic that is durable, shatterproof plastic that is perfect for children ages 3 and older, the Mommy Please play food set is designed with kids in mind. Food pieces in the collection include ice cream cone, apples, juice, milk, bread, pizza, eggs, grapes, potatoes, asparagus, strawberries, chicken, tomatoes and much more. The large variety of pieces ensures that children will be occupied for hours, as they learn new food items and how to create healthy, balanced meals and snacks.
Customers have given the Mommy Please play food set rave reviews. With over 500 reviews on Amazon.com, 99% of customers say they love their play food set, with the average product rating a 4.6 out of 5 stars. One happy customer wrote, "This toy food play set is really impressive. The pieces are really varied – plastic fruit, veg, pizza, bread items like croissants and buns, french fries, ice cream cones, cans of soup, ketchup bottles, and more. There's also cardboard items like OJ, mac n cheese, and brownie mix, which you would probably want to stuff with tissue paper and tape shut so they keep their shape while playing. All of the items look well made, and are brightly colored yet realistic to hold your child's attention for hours on end."
Currently, on sale for $23.99, the Mommy Please play food set is sold exclusively on Amazon.com. Amazon Prime customers receive free 2-day shipping, and standard shipping is available for free on all purchases over $49. Mommy Please is confident that customers will be satisfied with their play food set. Any customer not 100% satisfied can return it for a full refund.
About Mommy Please: "Mommy Please desires nothing more than to bring education, prosperity, and (most of all) Health for children around the world. By providing an education tool known as the healthy organic play food set, Mommy Please is gearing its resources towards this single goals, hoping to touch the lives of children and parents around the world."
Release ID: 139190