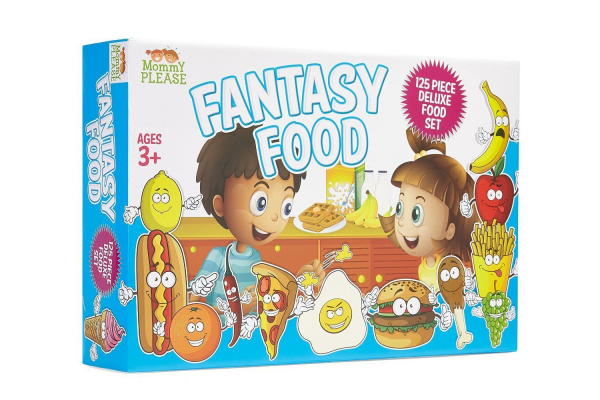 - February 3, 2017 /PressCable/ —
The Mommy Please play food set is made of durable, shatterproof plastic and is BPA free. With the variety of foods and labels on some pieces containing fun food facts, the play food set is educational and provide children with hours of fun. Children can engage in imaginative play with this 125 piece set, which features items such as pizza, carrots, eggs, broccoli, grapes, chicken, asparagus, apples, watermelon, bananas and more. Four food groups are represented, and things like juice and condiments are also included, for continued imaginative play.
A great gift for children, the Mommy Please play food set is durable enough it has been used in doctor offices and preschools. The play food is sold exclusively on Amazon.com, where it has received outstanding reviews. With over 350 reviews, 97% of reviews said they liked or loved this product.
BellaSamAva'sMommy writes "Well made play food set! My children have a play kitchen, and we have had lots of pretend food come and go. Some sets just aren't made well and fall apart easily. I used to have an in-home daycare, so I have quite an opinion on play food! I have tried wooden, plastic and cardboard food sets. Wooden sets were bad because if a piece was thrown by an angry toddler, someone was hurt! Also when they chewed on the wooden pieces, paint would come off, and it made me nervous that the kids were ingesting that. Some plastic sets we have gotten were so cheaply made that they would flatten or crack apart easily and would end up in the trash – same for cardboard as well. Cardboard sets rarely made it to the end of the first day! We just love this set, though! It is so realistic looking! I love that the hot dogs come out of the buns and that you can make an entire pie of pizza. Some of the pieces say "organic" which I thought was an adorable touch as well. This set is very well made and looks like it will last for years to come! My 3-year-old daughter has had countless hours of imaginative fun with this set."
The 125 piece plastic food set by Mommy Please is sold exclusively on Amazon.com, where all orders over $49 receive free shipping. Mommy Please offers a satisfaction guarantee, if a customer is not happy with this product, it can be returned for a full refund.
About Mommy Please: "Mommy Please desires nothing more than to bring education, prosperity, and (most of all) Health for children around the world. By providing an education tool known as the healthy organic play food set, Mommy Please is gearing its resources towards this single goals, hoping to touch the lives of children and parents around the world."
Release ID: 166544