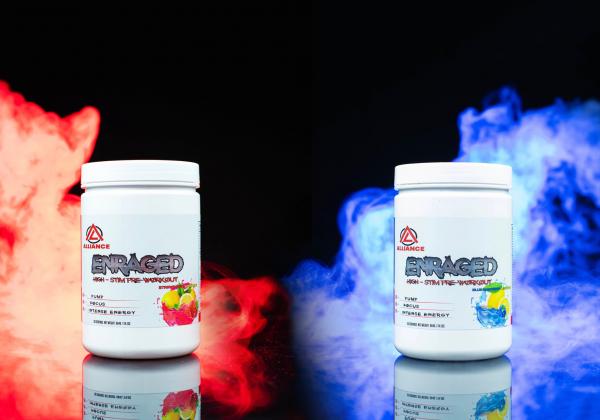 - March 17, 2021 /PressCable/ —
Nutracore Supplements, sports nutrition specialists based in Manalapan Township, NJ, have launched Enraged, a new pre-workout supplement in their Nutrishop Alliance range. "Enraged" contains a unique blend of vitamins, minerals and amino acids designed to fuel the body with the energy needed for optimized workouts.
To find out more visit https://nutracoresupplements.com/products/enraged
The launch of Enraged provides customers with a convenient way to increase blood flow, accelerate the metabolism, combat fatigue and both gain and maintain muscle mass.
Amino acids play a crucial role in the body's ability to build proteins, the main component of muscle. Proteins contain multiple amino acids, all of which contribute to optimum muscle function and maintenance. Amino acids are quickly absorbed into the body, usually within 30 mins of consumption, making them an ideal source of fuel prior to exercise.
The Enraged pre-workout supplement contains 11,000 mg of an amino acid compound called Citrulline Mallate. It combines the amino acid, L-Citrulline, which enhances the ammonia recycling process and nitric oxide metabolism, making it ideal for workout stamina and stimulation. Malate is an organic salt compound, known to enhance physiological stability.
The newly released supplement also contains Vitamin C as calcium ascorbate which assists protein synthesis, strengthens both the arteries and bone cartilage as well as bolstering the immune system and the body's wound healing capacity. Other ingredients include Vitamin B3 in the form of Pyridoxine Hydrochloride which is responsible for transforming glucose into energy.
Nutracore Supplements are specialists in sports nutrition, offering dietary expertise and a comprehensive range of products to enhance energy levels and revitalize the body before and after training. In addition to the new Enraged pre-workout stimulant, the Nutracore Alliance range includes post-workout supplements, whey proteins, vegan proteins, as well as CBD oils and gummies.
One satisfied customer said, "The Enraged supplement is fast-acting and gives me the energy I need during my workout and the rest of my day. I don't feel jittery like with other supplements I've tried."
With the launch of Enraged, Nutracore Supplements continue to expand their commitment to accessible nutritional expertise, providing a range of high stimulation pre-workout supplements to their growing customer community.
For more information visit https://nutracoresupplements.com/products/enraged
Release ID: 89001452