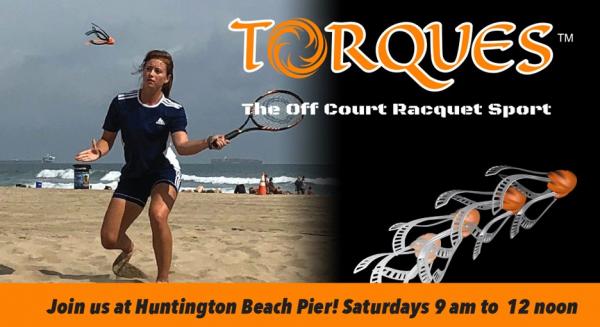 - February 17, 2020 /PressCable/ —
Torques is the off-court racket sport you've been waiting for. It's revolutionizing the genre with a unique new shuttle made for optimal play in a variety of environments, breaking out from the indoors to the outdoors, from the court into parks, beaches, and your own backyard. It's the best of racquetball, tennis, and badminton all in one.
More details can be found at https://torques.tv/
"Torque Shuttles are much larger and heavier than a traditional badminton shuttle. Torque Shuttles have 5 wings versus a badminton shuttle that has 16 feathers. If you like playing badminton but you don't like that you can't play in the wind," says Torques inventor Scott Peterson, "Torques is for you."
Torques is played with tennis racquets and a unique, patented shuttle made of nylon, ABS, and polyurethane. Unlike badminton, which is meant for playing indoors, Torques is designed to be played outdoors. "Torque Shuttles can withstand the force of being hit with a tennis racquet, giving one the ability to take their tennis stroke to the beach, park, greenbelt and front or back yard. This play anywhere benefit is truly fun," Peterson continues. Its patented shuttle is scientifically designed to twirl through the air in windy conditions, up to 15 MPH, that would be problematic for a badminton birdie. "While Torque Shuttles are not indestructible, they tolerate a lot of play."
Scott Peterson can be found most Saturdays on the sands of Huntington Beach, California with his nine-foot poles (patented Torques Flyzone) set up for games with friends, passersby and sometimes even professional athletes.
While in Southern California last July for a badminton tournament, Fabienne Deprez, German professional badminton player, happened upon a Torques game in Huntington Beach and joined in. According to Peterson, Deprez said "that she loved it and had a lot of fun."
Fans of pro tennis might remember Jill Craybas who famously defeated Serena Williams in a surprise upset at Wimbledon. After playing Torques, she raved it's "an exciting new game that you can play anywhere… It's so much fun."
To watch videos of people playing Torques including Jill Craybas go to: https://www.youtube.com/channel/UCftC5tHM0oThUZr3NjtIEDw/
So where did inventor Scott Peterson find his inspiration to develop a new game? Surprisingly in ancient weaponry. Peterson, an avid racquet sports player, began his quest for a more aggressive form of badminton in 1997 and spent over 20 years developing it. His breakthrough came when he looked to the ancient Celts.
"Around 200 – 300 B.C.," Peterson says, "our ancestors would use rocks and twist rawhide around them, creating crude striking weapons." How does it work? "Torques as a technical definition is a twisting force that creates rotation." The result is a shuttle that works even in winds up to 15 mph allowing invigorating gameplay any time you want, almost anywhere you want."
Torques is gaining fans from professional racket sports players to everyday people from all different backgrounds.
Kelsey, a former high school tennis player says, "I love Torques, it reminded me of playing tennis. I've played tennis in high school and I loved it but this is even more fun because you can come out on the beach and play, you can play in the park, you can play it in your backyard and with your friends who maybe don't know how to play tennis, you're not a trained athlete you can play with anybody and have a good time. It's relaxed, it's fun and you can rally back and forth."
For information about Torques meetups go to https://facebook.com/torques.tv
Release ID: 88946983