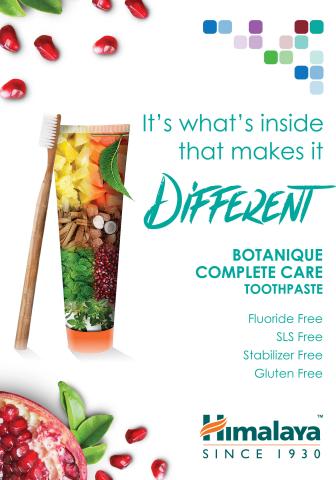 - May 28, 2018 /NewsNetwork/ —
Himalaya Botanique has announced the launch of their new product, the affordable, fast-acting All Natural Botanique Whitening Simply Mint Fluoride Free Toothpaste, which is amongst the best natural whitening toothpastes in the United Kingdom. The company has been producing top quality herbal products since 1930, and the whitening fluoride-free toothpaste is ideal for anyone that wants to improve the condition and appearance of their teeth.
For more information, visit: http://bit.ly/WhiteningNaturalToothpaste
In just under three months of launch on Amazon UK platform, the Himalaya Botanique Toothpaste range has become the Amazon choice for Organic toothpaste. It has also secured top three ranking for SLS free toothpaste and Vegan toothpaste searches on Amazon.
Teeth can very easily become stained, deteriorated, discoloured and dark from various different ingredients and foods that most people eat and drink in everyday life. Therefore whitening toothpaste is ideal for anyone that has discoloured teeth or other similar stains and wants to be rid of the discolouration and have healthier looking teeth.
Customers will find that the 'All Natural Botanique Whitening Simply Mint Toothpaste' is all natural, meaning its free from SLS, Fluoride, Gluten and Carrageenan and 400+ synthetic ingredients which may be found in other standard toothpastes. The product also uses a combination of Pineapple and Papaya enzymes which help to naturally whiten teeth whilst maintaining a neutral taste
In addition to this, the Neem and Triphala that is in the toothpaste helps to clean the teeth as well as remove plaque and stains on the surface of the teeth. This means the toothpaste is perfect for anyone that wants whiter teeth as well as cleaner and healthier teeth.
Customers will see that the toothpaste is also an antioxidant, and contains absolutely no artificial ingredients. The Pomegranate extract, mixed with Xylitol which helps to support healthy looking and healthy feeling gums, prevent bleeding, tighten tissue and prevent other dental problems such as gum inflammations.
Moreover, the toothpaste contains no fluoride, no sodium lauryl sulphate, no carrageenan and no abrasives, which are all fairly common in other whitening toothpastes.
Customers will find that because of the all natural ingredients, the Botanique whitening simply mint toothpaste is gluten free. This means it is safe to use for people with gluten intolerance, as well as being vegan friendly, the product is not tested on animals and contains no animal by-products, meaning it is 100% natural.
Release ID: 346342