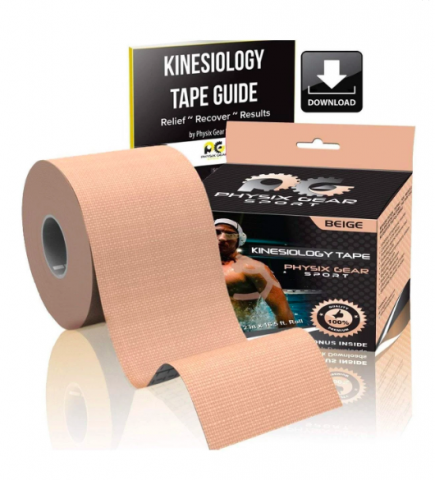 - February 1, 2021 /PressCable/ —
The Miami-based company, Physix Gear has launched its new Kinesiology Tape. The pain relief adhesive is ideal for relieving pain and improving circulation in muscles, shin splints, knees, and shoulders.
Details on this and other products can be found at https://www.physixgear.com/products/best-kinesiology-tape-16ft-uncut-roll-pain-relief-adhesive-for-muscles-shin-splints-knee-shoulder-24-7-waterproof-therapeutic-aid?_pos=1&_sid=86d473852&_ss=r
The newly released Kinesiology tape works by lifting the skin and creating convulsions, which helps to relieve pain and improve circulation. The waterproof therapeutic aid can be worn 24/7 for up to five days. It's ideal for athletes and gym fanatics who wish to have chronic muscular pain conditions easily reduced in their joints, Achilles tendon muscles, and tendons.
While other kinesiology tapes have "rolly" edges, loose fabrics, are difficult to cut, or simply stay on for only a few hours, the new FDA CE approved Physix KTape stays put even during hot sweaty Yoga Classes. The Kinesiology tape is much different than traditional medical or athletic tapes; it invokes a more advanced level of physical science to directly interact with the muscles in one's body.
When compared to regular athletic tape, Kinesiology tape works primarily in the capacity of recovery, growth, and improvement by increasing motion and decreasing existing pain. Traditional athletic tape, on the other hand, works as an injury prevention tool by limiting excess motion that may be more likely to cause injury during sports, exercise or other strenuous physical activity.
More on this can be found at https://www.physixgear.com/blogs/sport-and-wellness/what-is-kinesiology-tape
Though more advanced in the application process than traditional athletic tape, kinesiology tape can be applied by anyone once proper directions are followed. Under the direction of a doctor or physical therapist, users will be shown during one session how to apply the product to the specific area in the body that needs attention.
However, when using it on one's own free will, independent of a physician's care, the kinesiology tape, must be applied in very specific patterns, usually in small strips that will be taped directly on top of the target muscle or joint groups. Instructions on how to apply it to targeted body parts are found in the free 84-page comprehensive guide that comes with each kinesiology tape order.
Customers have testified to Physix Tape's reliable and fast muscle support. The product also comes in amazing color options to suit each customer's fashion preferences. Physix Gear promises a 100% satisfaction guarantee with a no-hassle, no-questions-asked return policy.
Interested persons can visit the aforementioned websites as well as view the YouTube advert at https://youtu.be/NqFTO-aANmA for more information.
Release ID: 88995694