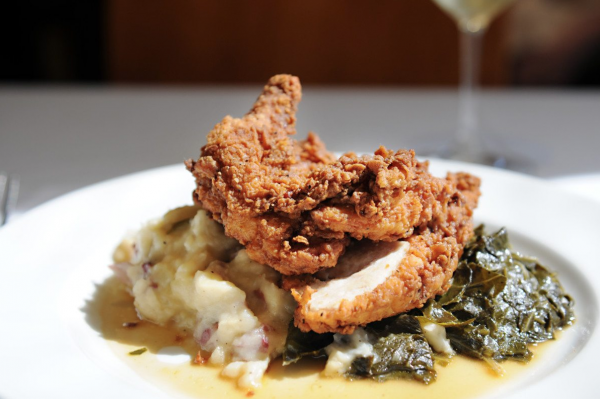 - April 7, 2021 /PressCable/ —
South City Kitchen Midtown has recently launched a chef prepared meal delivery option for home and business with DoorDash. South City Kitchen shut down during the height of the pandemic and used that time to remodel and implement enhanced sanitation procedures. The restaurant would reopen in the summer of 2020 with less seating to maintain social distancing. With less seating and volume in the restaurant, demand for in store & curbside pick up, to go orders and delivery increased. To meet the demand for delivered meals, Fifth Group Restaurants has partnered with DoorDash. With so many new ways to enjoy the best southern food in Midtown, Atlanta at South City Kitchen Midtown, it's best to provide details on each so you can choose what's best for you.
Dine in, order curbside pickup or delivery with DoorDash at: https://www.southcitykitchen.com/midtown-hours-and-location/
Dine In:
South City Kitchen Midtown is open for dine in service for lunch, brunch and dinner. They are in the process of getting back to full operations throughout the week.
As of February 2021:
-Lunch can be enjoyed for dine in service Tuesday – Friday from 11AM -2PM
-Dinner service starts at 5PM, Tuesday – Saturday and ends at 9PM, Tuesday – Thursday and at 10PM, Friday & Saturday
-Brunch occurs on Saturday & Sunday between the hours of 10AM – 3PM
South City Kitchen Midtown typically has 3 areas available for dining: main, upstairs and patio dining room. Some areas may not be available due to staffing. Each dining area has been updated to account for enhanced sanitation operating procedures with plenty of access to hand sanitizer for staff and guests. All guests are required to wear a mask when away from their table.
It is always best to check online or call (404) 873-7358 for the most up to date info on hours of operations. To make a reservation for dine in service please visit https://www.southcitykitchen.com/midtown-hours-and-location/
Contact-less Curbside Pick Up/ In Store Pick Up:
Curbside and in store pick up are popular options for a host of reasons. Whatever the reason may be, you can still enjoy the delicious southern food of South City Kitchen Midtown without a compromise to quality. They have updated all of their take out procedures and containers. You will enjoy the exact same portions as dining in while everything is secured in new packaging. They take great care in putting sauces in ramekins and separating wet and dry food items into their own box. It's attention to details like that that truly maintains the quality of your meal while it's transported home.
To place a contactless curbside or in store pick up order please visit https://sckmidtown.alohaorderonline.com/
Once your order is placed, you will be updated with an estimated time of completion. When you arrive at the restaurant, you can call and an associate will come to your car with your meal. If you are doing in store pick up just speak with the hostess or bartender on duty.
Delivery With DoorDash:
The increased care South City Kitchen Midtown has taken to improve the carry out experience extends to delivery. They have partnered with DoorDash to get the best southern food in midtown delivered to you. This can all be conveniently done through the DoorDash app. South City Kitchen will receive your order from DoorDash and begin preparations based on details of order. Once the meal is packaged and ready, DoorDash personnel will pick up and deliver to you.
Get South City Kitchen's delicious meals delivered by DoorDash at https://www.doordash.com/store/south-city-kitchen-atlanta-21268/en-US
South City Kitchen Midtown has been serving up meals for close to 3 decades in becoming a staple in the Atlanta dining scene. Customer service is just as amazing as the food. If you happen to dine at South City Kitchen Midtown for brunch or dinner, ask for Manny to take care of you. Chet Green, General Manager at South City Kitchen Midtown also wanted to add "We've truly gone above and beyond about providing that unique South City Kitchen feel Atlanta has grown to love for the past 28 years in light of the global pandemic. Whether you choose to dine in our remodeled, socially distanced dining rooms and patio, pick up your meal curbside or in the restaurant or order through DoorDash for delivery to your home, you always have a way to enjoy the delicious food at South City Kitchen Midtown."
To get further information in a video format about South City Kitchen Midtown or the new Delivery with DoorDash service, it can be viewed at https://www.youtube.com/watch?v=rkLjxzER9cM
Release ID: 89004063