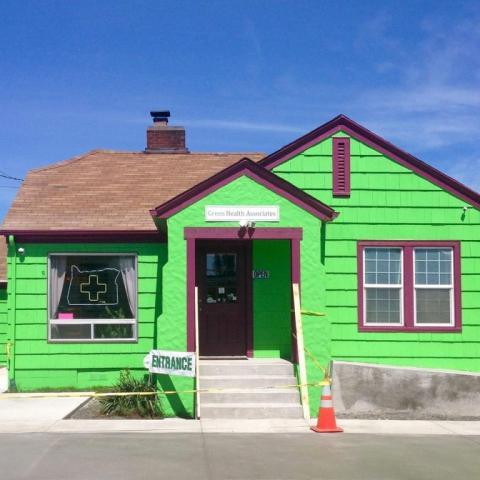 - March 30, 2019 /PressCable/ —
Eugene, Oregon- Local Eugene dispensary is spreading the word in the importance of knowing where your cannabis products come from. Green Health Eugene, who is the Eugene area's favored pot shop, even takes the relationship between shop and farm a step by actually getting all of their amazing products from their own cannabis farm, also located in the Eugene area, (just 2 miles from the shop).
Robert Pitt, owner of Green Health Eugene, best dispensary in Eugene, Oregon, had this to say about their close relationship with local cannabis farm, Multi Top Farms, "Not all dispensaries have a super close relationship with their growers like we do. We are lucky enough to have our very own farm, Multi Top Farms, which is a local farm located barely two miles away. Multi Top Farms supplies us with a constant rotation of delicious top choice cannabis strains. We encourage anyone in the Eugene area to stop by the shop and check out what rotation we currently have at our Eugene dispensary."
Located just off of State 99 North, in the infamous green house, (across the street from the Dairy Queen and Advanced Auto Parts), Green Health Eugene is favored by local recreational marijuana patients because of their friendly, patient staff, huge selection, and competitive prices.
The marijuana menu listed on the website https://www.greenhealtheugene.com/menu showcases the dispensary in Eugene's incredible and vast selection of strains. The menu features both Indica and Sativa strains, from Kosher Dog to Blueberry Muffin and Lemon Kush, there is something for every stage smoker and every customer craving. Green Health Eugene also appears to have an impressive selection of concentrates and extracts as well as many other goodies. In fact, the Eugene dispensary even has 2 full bud rooms, ensuring their customers don't feel rushed to make a decision. According to Pitt, many customers are turned off by some dispensaries in the area who pressure their patrons into choosing what they want and not taking the time to properly answer their questions and make recommendations based on the customers' needs.
"At Green Health Eugene, we take product quality and customer service very seriously. Not only do we ensure we are providing the best possible product to our customers, but we are dedicated to providing top notch customer service by hiring educated, experienced, and patient bud tenders to take care of all of our customers. Whether it's your first time at a dispensary or you're a regular, we will treat everyone with respect, care, and patience. We know going to a dispensary for the first time can be slightly overwhelming and we want our customers to always feel comfortable, and never rushed."
Green Health also say they welcome every and anyone as long as they are 21+ for recreational, or 18+ for medical OMMP patients. Pitt concluded, "You'll feel right at home with our cozy relaxed atmosphere and knowledgeable bud tenders, and you won't feel rushed as we have multiple bud rooms to serve our customers in, just in case anyone needs a little extra time to make a decision or wants to learn about how cannabis can really help them."
The Eugene dispensary is located at 607 State Hwy 99 N, Eugene, OR 97402, and they can be contacted at (541) 357-5973.
Release ID: 496995