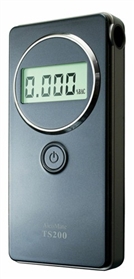 - December 6, 2017 /PressCable/ —
BreathalyzersUSA announced today that the AlcoMate REVO TS200 has received the best breathalyzer review on Amazon for professional police caliber breathalyzers. The REVO TS200 breathalyzer boasts that it is the world's first and only alcohol tester that doesn't require annual professional calibration.
To learn more about the incredible AlcoMate REVO TS200 breathalyzer go to: http://amzn.to/2nuRuOn
The AlcoMate REVO incorporates a user-changeable PRISM sensor module (the mechanism that calculates blood alcohol concentration) that can be swapped out with a new one just like changing a battery. This puts the breathalyzer back to brand new factory calibration and avoids the cost and aggravation of having to pack it up and ship it back to the manufacturer every year for re-calibration.
Brad Darnell, Chief Marketing Officer at BreathalyzersUSA was quoted as saying: "The AlcoMate REVO is hands-down the most advanced and consistently accurate portable breathalyzer on the market today. Because of the capability to change out the sensor module (which takes about two minutes), the REVO never has to be sent back to the manufacturer for calibration. Drug and Alcohol clinics, businesses, police departments, schools, the military and conscientious consumers who require a consistently accurate and reliable breathalyzer are purchasing the REVO over all other alcohol testers."
The AlcoMate REVO also incorporates other features that make it an excellent choice for professional and high-end consumer use. Because it uses a sophisticated fuel-cell sensor, false positives from keytones and food related products are virtually eliminated. The REVO is easy to use with its one-button operation. It's warmup time is about 15 seconds and it resets for multi-person testing in about 12 seconds making it the perfect devise for volume testing. The sensor will deliver 1,000 tests before needing a new sensor. The TS200 is about the size of a smart phone so it can be carried to different locations with ease.
Right now BreathalyzersUSA is offering the AlcoMate REVO on Amazon at for just $219.95. To learn more about the best breathalyzer review on Amazon go here: http://amzn.to/2nuRuOn
Release ID: 273808