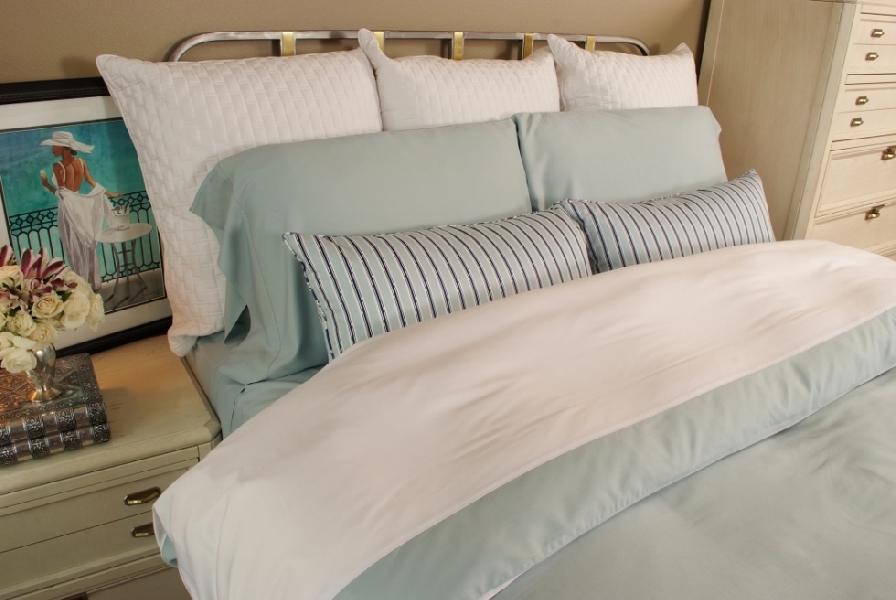 - November 6, 2014 /PressCable/ —
Longmont, Colorado, November 5, 2014   Bamboo For Life announced today that it offers bamboo sheets and pillowcases, bamboo towels and bamboo duvet covers through its on-line outlet. Bamboo bed and bath furnishings are the ecologic, affordable alternative to high-end cotton or silk linens.
Storeowner, Jim Morris, says, "Considering that most people spend a third of their life in bed, why not sleep on bed linens which feel great?" Bamboo rayon has a better "hand" compared to the finest cotton. "Hand" is the descriptor of the way a fabric conforms to the body. Add the sensuous silkiness of the cloth and the way that the fabric wicks moisture away and bamboo sheets just feel fantastic to sleep on.
Presently the best bamboo sheets are priced similarly to high thread count Egyptian cotton and are a lot less expensive than silk. Because of the fabric distinctions, bamboo, at a 300-thread count (TC), is softer and silkier than a 1500 TC Egyptian cotton sheet. Bamboo sheets, although less expensive compared to silk, have a comparable sensuality. Plus bamboo is resistant to dust mites, is hypoallergenic and is naturally antibiotic. Sheets are available in California king size, king, queen, full and twin size. Bamboo is the better choice in luxurious, sensual linens.
Bamboo towels, sheets and bamboo duvet covers are popular in the bed and breakfast market. Bamboo towels wick water better than cotton. The luxurious sensuality that bamboo textiles offer pleases clients, and explains why they keep returning. When they see it, the business owners recognize the value in bamboo bed linens and towels.
Bamboo For Life provides the finest, environmentally friendly items. Cotton is one of the most destructive plants to grow on earth. Twenty five per-cent of the overall pesticide utilized is put on cotton. Additionally, the fields are burned following harvest, leaving raw farmlands until the cycle starts over in the spring. Bamboo is harvested incrementally, so the bamboo forest carries on to sustain wildlife and secure the soil. Plus, no fertilizer, pesticide or herbicide is used. The bamboo is organic and the material is Oeko-Tex 100 certified. Consumers can rest well, understanding that the ecosystem wasn't ruined to produce their bamboo sheets.
The Bamboo For Life online store reports that customer response to their quality, luxurious ,bamboobed sheets has been tremendous. It's the quality of the bedding andthe personal service that elicits the most response. KellyH, from Louisville, Ky says:"Thank you sooo much for all your help! I LOVE bamboo sheets andwill definitely be ordering from you again! I don't think my motherin law has ever felt bamboo sheets so I'm excited to see what shethinks Thanks again!" and SarahR., from Miami Beach says: "I ordered a set of sheets and towels a few months ago. Now I wouldlike to order both for the whole house. We have enjoyed our sheetsand towels…they wash well, are soft and the towels are veryabsorbent."
Currently all products at the Bamboo For Life online outlet are on sale. Plus,sheets are further reduced an additional $10.00. This is such a greatopportunity to get organic, healthy luxury at bargain prices.
Top-notch customer service insures that every customer is satisfied with his or her order. For other ecologic bamboo products go to www.bambooforlife.com or to Bamboo Quest
Bamboo For Life concentrates on the on-line sale of eco-friendly, bamboo sheets, towels, duvet covers and bathrobes. The items are affordable and high quality. Top-notch customer care insures that clients are pleased with the products. Bamboo For Life says the store's goal is to make your life better and the planet a healthier place.
Release ID: 67619