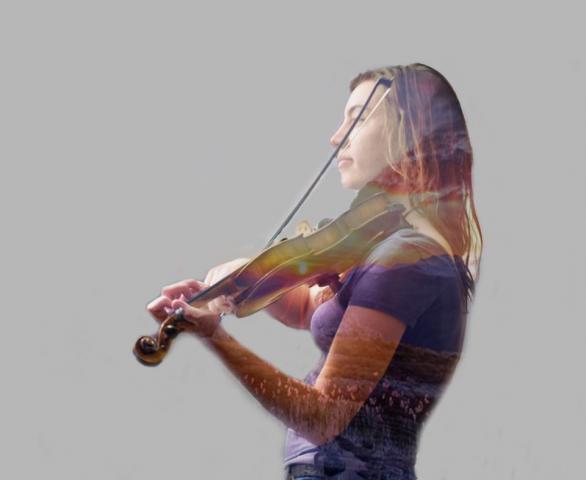 - April 11, 2019 /PressCable/ —
Berklee in Boston is known for producing top-notch musicianship and cutting-edge takes on contemporary styles but Abigail Shelton's Senior Recital will be breaking the rules. Being a Berklee double major in Violin Performance and Film Scoring is part of what will make a difference in this performance Friday / April 12, 2019 / 7:00 p.m., Oliver Colvin Recital Hall,1140 Boylston Street, Boston, MA, 02215
Berklee performance majors in their Senior recitals get to show off their chops on their chosen instrument, more often than not specializing in a style that they've honed to a fine edge during their tenure at Berklee.
But in her time at Berklee Abigail has had her feet in two worlds the entire time – the high tech world of film scoring where music must be composed to the mood of a scene and to the exacting standards of the film's director, then polished to a sheen with top-notch computer wizardry.
That's a big part of what Berklee film score majors have to go through.
But being a violin performance major also, Ms. Shelton has every day been taken to the other end of the spectrum for the last four years to the intensive study of a four string wooden instrument known for its voice and power, it's ability to make you laugh or cry or pick up your feet and dance because you just can't help it: the violin.
These are all elements being thrown together in this performance. Shelton's sweeping film score style compositions brought to life by the violin, juxtaposed with old time fiddling pieces that if you close your eyes you'd swear you're at a barn dance somewhere in Kansas.
Somehow she promises to put all of this together into a performance that has an artistic arc to it that makes sense.
Catching up with Ms. Shelton recently, she had this to say: "I have loved my time here at Berklee – it has been very hard but worlds literally have been opened up to me. One of the lessons I've learned is to not take the easy way out. My Senior Recital could've been solely my film score style compositions and it would've been great just like that, but its been an incredible gift to have been a part of the Berklee Strings Department and a member of the Berklee Roots program too. Berklee surrounds you with astounding artists and teachers to learn from and that you feel blessed just to rub shoulders with – I just had to throw in a lot of Roots material and find a way to make it work."
To stir the pot even further, Abigail has pulled together an all-star cast of fellow Berklee student performers backing her up from all over the world: Piano: Daniel Duarte from the Dominican Republic; Drums: Yair Amster from Israel; Bass: Saul Ojeda from Mexico; Piano:Kartika Dewy Luky from Indonesia; Guitar: Judy Nie from Singapore; Drums: Jedidiah Campoy from the Philippines; Piano: Ana Ortiz Wienken from Spain.
Plus there will be players from far-flung parts of the US: Guitar: Cole Szilagyi; Mandolin: Eli Wildman; Banjo: Victor Furtado; Fiddle: Sophie Mae Wellington. Abigail Shelton hails from Atlanta, Georgia.
Berklee College of Music in Boston annually has over 30% international enrollment and it will be quite interesting to see this element thrown into this rules-breaking recital by Abigail Shelton this Friday. The concert is free but seating is limited so come early. Event particulars at this link: rules breaking recital by Abigail Shelton.
Release ID: 501321