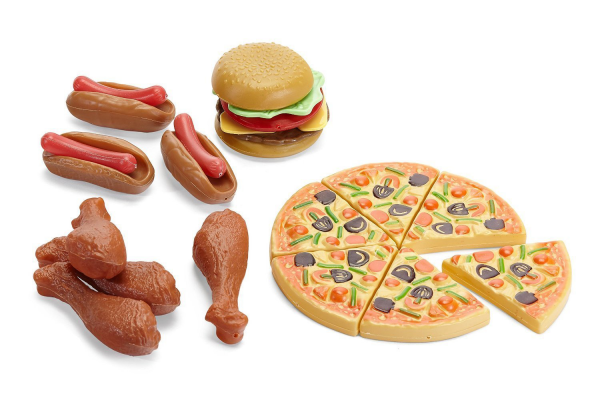 - January 19, 2017 /PressCable/ —
Mommy Please has always held that their popular toy food set was more than just a child's toy, but it was also a great learning tool to help teach child the benefits of healthy foods and healthy food choices. Company spokesperson Elsie Murphy issued a statement today further explaining these claims.
"Our toy food set is an education tool that helps children grow their imagination," said Murphy. "The play food also promotes healthy eating choices by educating and offering children a variety of fruits, grains, vegetables, and canned food labeled "organic." In addition to healthy food choices, the play food set offers candy bars, donuts, pizza, pie and ice cream. Offering the variety of foods allows the child to learn at an early age how to make healthy food choices for meals. This, combined with nutritional information contained on some of the toys, as well as fun food facts all combine to create a product that helps children become more aware of food, food choices and what constitutes healthy foods. This is the benefit of our toy food set."
The Mommy Please toy food set is made in the USA of BPA-free plastic, which prevents the children from being exposed to harmful chemical or toxins. Children can pretend grocery shop, play kitchen or cook for the family. The play food set gives them many ways to let their imagination grow and is the perfect gift for children ages 3 and over.
The Mommy Please play food set was awarded the #1 new release in toy foods by Amazon.com. Customers are thrilled with the food sets, with over 325 reviews on Amazon.com, 97% of the customers said they liked the play food set, and the average customer rating is 4.8 out of 5 stars. A recent five-star review said "The selection of food items in this set are amazing! They even come with a handy zip-up bag, which makes storing all the pieces super convenient. I also love the added touch of organically labeled can food and milk. There are no shortage of food options for my three-year-old to serve up. Highly recommend."
The toy food set by Mommy Please is available for purchase for $24.97 exclusively on Amazon.com. Free shipping is available on orders over $49.
About Mommy Please: "Mommy Please has worked tirelessly to bring children a play set that will never cease to keep their imaginations going. We strive to ensure that happiness, education, and creativity are all incorporated into play time every single day. As a company that focuses on family values, Mommy Please intends to influence the lives of families around the world."
Release ID: 162768