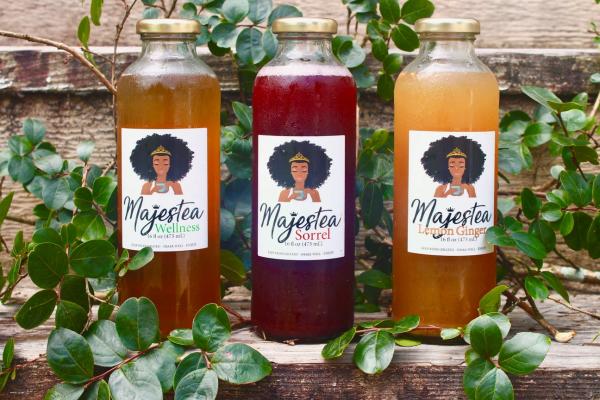 - February 9, 2022 /PressCable/ —
Majesteas makes custom made to order premium health and wellness teas, bottled teas and tea accessories and gifts. Majesteas operates in the metro Atlanta area. Majesteas is recognized as being a leader in custom, made to order loose leaf tea blends and bottled tea with health impacting benefits. This is further reinforced by the brands recent recognition as a favorite in the Atlanta community and preferred healthy beverage at many eateries like Plant Based Pizzeria in Atlanta near the Virginia-Highlands area. Drinking tea has many benefits on health of the body and mind. The health benefits increase with quality ingredients and made to order preparation. Those seeking to improve their health can simply replace the typical consumption of unhealthy sugary beverages with that of Majesteas delicious blended loose leaf and bottled teas. Choose from a wide selection of loose leaf and bottled teas and explore their health benefits by visiting the following site: https://www.mymajesteas.com/
Speaking of community, Majesteas aims to empower the community by providing premium alternatives for daily consumption, while encouraging healthier lifestyles and providing assistance in increasing the expectations and awareness of healthy habits in the community.
Majesteas has been operating in the health and wellness tea beverages market since 2017. Majesteas does not view brands such as Snapple and Nestea as competition because those brands mass produce while Majesteas makes premium health and wellness teas to order. They have been able to make such a strong impression on the market and gain reputation through the use of premium ingredients blended to order that provide health improving benefits that is available to the Atlanta metro area via pick up, delivery or visiting some restaurants around town. Majesteas most popular bottled tea is their delicious lemon ginger flavor; however, all the flavors are amazing. You can get Majesteas bottled teas in a 16 ounce 6 pack, 16 ounce 12 pack, half gallon or full gallon at: https://www.mymajesteas.com/collections/16-oz
Demarco, Majesteas's Co-Founder spoke about its recent recognition, expanding on some of the decisions and motivations that led the business to the level it's currently reached.
"When Majesteas was founded, it was made abundantly clear we wanted to be the kind of company that was known as a premium health and wellness tea line aimed to bring delicious, yet healthy tea blends to the community. Being that teas are filled with an abundance of vitamins and antioxidants, we work to blend teas with exotic spices and fruits to produce scrumptious and wholesome beverages​. One of the biggest challenges faced was during the pandemic, which introduced some issues initially. However as the overall focus on health maintenance has improved nationally, those issues became more opportunities for growth. Fortunately with some good people behind us, and personal use of custom tea blends that aided and improved health during and after my wife's pregnancy are what helped create and launch Majesteas."
Demarco also mentioned Majesteas's future plans involve expansion into more local eateries and businesses around Atlanta. Majesteas hopes to bring more improvement of health and wellness to the community it serves by providing alternatives to sugary and other unhealthy beverages..
Majesteas plans to maintain its position at the forefront of custom tea blends with health impacting benefits in the Atlanta market for years to come by building on its success and finding new ways to serve its community, customers and the world at large.
Get in contact with Majesteas for more details and any questions you may have by visiting: https://www.mymajesteas.com/pages/contact-us
Release ID: 89063248