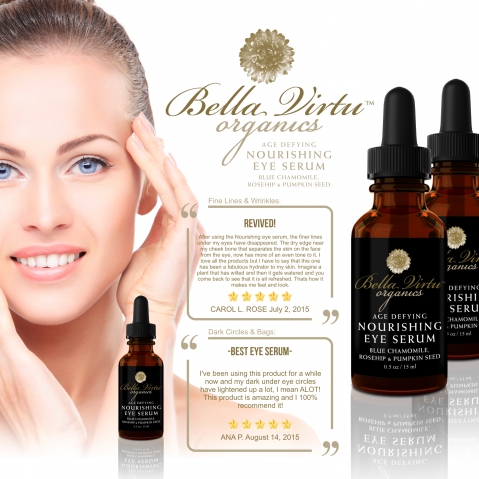 - October 15, 2017 /PressCable/ —
Ever wonder if it could be possible to make a luxurious and yet all-natural beauty product? With the plethora of beauty products available today, the norm is a product full of chemicals and not much natural except for one or two ingredients. Bella Virtu Organics is rising above the competition with their 100% USDA certified organic products.
https://www.amazon.com/Natural-Under-Serum-Circles-Puffiness/dp/B00KGJVVDK/
The Age Defying Nourishing Eye Serum is derived from totally natural, vegan, non-GMO, and organic essential oils. There are just seven ingredients expertly blended together to create an amazing anti-aging serum. Both men and women of all ages and skin types can benefit from regular use. Eliminate dark circles, fine lines and wrinkles, skin discoloration, and puffiness with just one product. Made for around the eye area, it can also be applied to on or around the lips, on the face, neck, chest, or the backs of the hands. Improvement can be seen within a few weeks.
The star ingredient of Bella Virtu Organics products is Helichrysum or immortelle oil. It is a powerful plant that fights free radicals and promotes skin regeneration. Used prominently in the Eye Serum, helichrysum combines with rosehip, geranium, pumpkin seed, blue chamomile, safflower, and castor oils to make the perfect formula for any skin type. Pumpkin seed packs a punch of Vitamins A, C, E, Zinc, and omega 3 and 6 fatty acids to improve the skin's appearance. Blue chamomile, castor, and geranium oils have anti-inflammatory properties. Safflower oil works with the helichrysum to regenerate skin cells. Rosehip oil helps with skin discoloration and dark circles.
All-natural, organic, cruelty-free, with eco-friendly packaging, Bella Virtu Organics is a brand that is ethical with higher standards. They are truly a cut above the rest. Try the Age Defying Nourishing Eye Serum today and feel the difference. A 100% money back no risk guarantee is included with each purchase. No guilt, just pure goodness in a small bottle that can heal and restore aging skin.
For more information, go to www.bellavirtuorganics.com or https://www.amazon.com/Natural-Under-Serum-Circles-Puffiness/dp/B00KGJVVDK/
Release ID: 248436