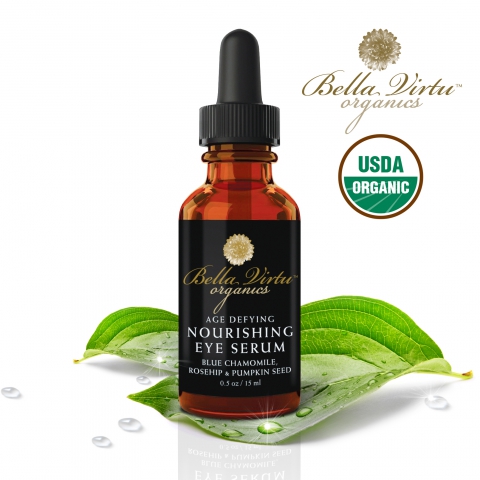 - September 24, 2017 /PressCable/ —
In this high-stress, race to the top society, more and more people are sleep deprived, trying to catch up on their work or travel non-stop or spending too much time rushing to the next task. The consequence is dark under eye circles, puffiness, and fine lines and wrinkles. There are so many creams and potions on the market, and the claims of "natural" and "organic" are often suspect. Bella Virtu Organics has the solution to this problem with their all new USDA Certified Organic Age Defying Nourishing Eye Serum.
https://www.amazon.com/Natural-Under-Serum-Circles…
The company name Bella Virtu is also their brand promise. "Bella" meaning "beautiful" and "Virtu" meaning "excellence." Each product in the Bella Virtu Organics line is made in small batches to guarantee quality. The creams and serums are stored and then sold in dark amber recyclable and reusable glass jars which preserve the freshness and potency.
Bella Virtu Organics Age Defying Nourishing Eye Serum contains just seven ingredients, all certified USDA organic oils. Most beauty products contain many more than ten or even twenty ingredients, with very scientific chemical names. Rosehip oil has high amounts of Vitamin C to combat those dark circles and sun/age spots. Pumpkin seed oil is loaded with antioxidants to keep skin looking young and vibrant. Safflower oil helps to moisturize and protect the skin. Castor oil removes the tired look from around the eyes. Geranium and blue chamomile oils reduce puffiness. Helichrysum oil helps to fight free radicals, reduce dark circles and firm the skin.
The texture of this oil-based serum is not greasy or heavy-handed. Apply 1-2 drops lightly around the eyes and as needed around the lip area, morning and evening. The serum blends in and dries without a residue. The difference can be seen in a few weeks and the compliments will start. This product is not just for women, but for men as well. All skin types can rest assured they will not get any irritation from the eye serum, a 100% satisfaction guarantee comes with every purchase.
Vegan, USDA organic, natural, not tested on animals, Bella Virtu Organics is a stand-out company in a sea of chemically-based ones. For more information go to https://www.amazon.com/Natural-Under-Serum-Circles…
Release ID: 242459