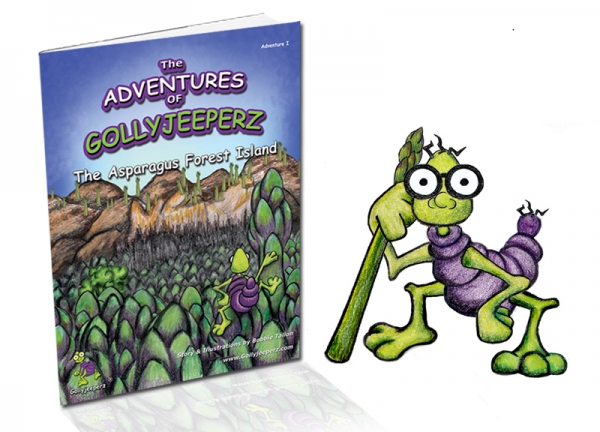 - December 16, 2016 /PressCable/ —
Bobbie Tallon is the creator and originator of The Adventures of Gollyjeeperz series originally set up as an animated cartoon series. Bobbie is an artist, hairstylist, graphic artist and designer. She finds it relaxing drawing and creating Gollyjeeperz' many worlds he will visit. She enjoys cooking for her husband Mark and children, James and Michael. Every year Bobbie also loves to grow a garden at their home in Canton, Michigan. Bobbie Tallon is launching Her new platform book, "The Adventures of Gollyjeeperz "The Asparagus Forest Island"". The book went live December 6, 2016, This book is now available on Amazon and Kindle online orders, and is expected to become a big hit with fans of the Young children ages 3-7 around the world.
More information on the book can be found here: http://www.gollyjeeperz.com
This is the first book in the series. book Tallon has authored. The book was written with the goal in mind for children to read about adventures that explore the world of vegetables in a new, fun, and educational way. This is the first of several stories involving the adventures of the Gollys. The Gollys are cute, bug-like characters that live on Asparagus Forest Island and other islands. The main characters are Gollyjeeperz, his girlfriend GollyPeeperz, and his best friend GollyJojo. It is her hope to encourage young readers to be interested in trying new vegetables that they read about without being told to eat them, gain their interest in the adventure!. There's also particular excitement about this launch because she's excited to finally make available a new Kindle edition and Notepad or PC edition. With today's families always on the go, it can be available now electronically as well as in print. .
The Adventures of Gollyjeeperz "The Asparagus Forest Island" sets its main focus on Gollyjeeperz who has a passion for growing asparagus! And he's the very best at it too! But what will Gollyjeeperz do, when he finds out there may not be enough asparagus for the Asparagus Harvest Party? Readers will likely find a particular interest in How will Gollyjeeperz meet his deadline? What fun awaits him?. The book's cover art was created by Bobbie Tallon and The Adventures of Gollyjeeperz "The Asparagus Forest Island" is being released by Bobbie Tallon (self published).
Bobbie Tallon has a background as a senior hairstylist, graphic artist and designer, active with local Special Olympics group for very successful annual fundraisers.. This helped shaped the creation of the book working with children and special needs children with school and community functions, Bobbie see's how much books are very important to our kids growing up..
When asked about why they wrote the book, Tallon said: "When growing my garden and children come to visit, the pure joy of learning about growing vegetables in a garden and the look in their eyes when they see where vegetables come from……never gets old! "
Tallon has hopes that the book will teach our children to get back to the basics! About eating healthier and how to cook for ourselves! And maybe grow a garden.. This positive outlook from the author is certainly testament to their optimism considering some of the mishaps during its creation. At one point The Asparagus Forest was originally released with another self publisher in December 2012, and family life was pulling her in many directions. She realized there were some changes needed as a self publisher and learn what needed to be done to make these stories available in different platforms..
In a recent interview, the author made a point of thanking a dear friend and co-worker Joe Coshatt. She worked 22 years with him at a local salon. He believed in Gollyjeeperz and loved to come up with fun names for her characters. He passed away suddenly in his sleep of a heart attack. And her many friends and family that have supported her and had fun with ideas and fun names, she is thankful for their part in the creation of the book, Tallon also shared: "A very special thank you to my husband Mark for helping me keep up with the house and kids. And being my sounding board for ideas writing my book and cheerleader when I was struggling."
Those interested in learning more about the book can visit here: http://www.gollyjeeperz.com
Release ID: 153464