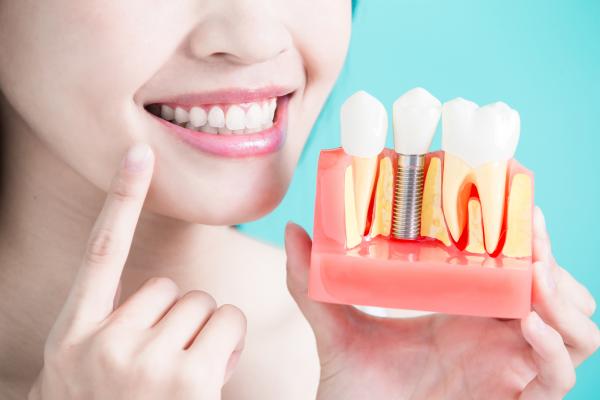 - September 15, 2020 /PressCable/ —
When people lose their teeth, they can lose their self-confidence, too. Not to mention, missing teeth can cause bone loss in the jawbone, shifting of the remaining teeth, and even dietary restrictions.
That's why Dr. Kiwon Lee, a dentist at Bear Brook Dental Care located in Montvale, New Jersey, is passionate about educating his patients on the benefits of dental implants.
More information about Bear Brook Dental Care and implant dentistry can be found here: https://bearbrookdentalcare.com/what-are-dental-implants-and-should-i-consider-them/
Dental implants are restorative tooth replacements that are securely anchored into the mouth with a dental post, usually made of titanium. The dental post is then covered with a dental crown, made uniquely for the patient. The implants replace not only the exposed tooth, but they also mimic the tooth root. This has benefits beyond simply giving the appearance of a full smile.
By mimicking the tooth root, the dental crown is secured in place, and can last a lifetime if properly maintained with oral hygiene and regular dental checkups. This means that Dr. Lee's dental implant patients can usually consider their investment a permanent solution for tooth loss.
Because the dental implant is securely rooted in the mouth, patients at Bear Brook Dental Care aren't forced to change their diet. They can eat whatever they like, without fear that their replacement teeth will move!
Equally importantly, the titanium dental post can help prevent bone loss and jawbone deterioration. When the post fuses with the jaw in a process called osseointegration, the dental implant helps support the facial structure. Preventing bone loss is critical to the patient's well-being and appearance.
With his Doctor of Dental Surgery degree and his AEGD Residency from Columbia University, Dr. Kiwon Lee's patients are in great hands. For his dental implant patients, Dr. Kiwon Lee is a Fellow of the International Congress of Implantologists. He's committed to constantly learning about the latest techniques in implant dentistry, and that's why Bear Brook Dental Care has over 300 5-star reviews from their patients.
To reserve your consultation appointment with Dr. Kiwon Lee at Bear Brook Dental Care in Montvale, NJ, visit here: https://bearbrookdentalcare.com/our-office/book-appointment/
Release ID: 88976763