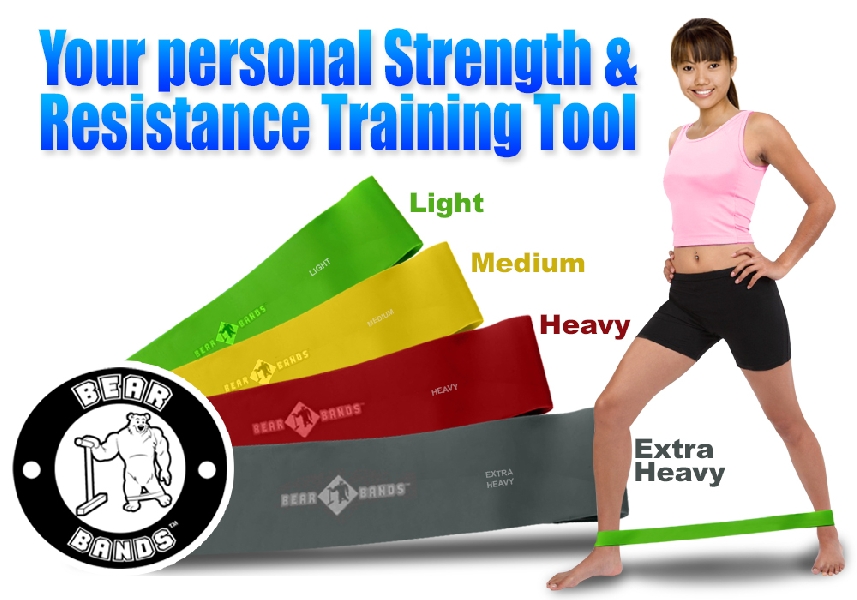 - June 10, 2015 /PressCable/ —
Tracy Hart-Woods, vice president for Client Happiness, announced that Bear Bands Resistance Bands, (created by Fitter Den) are available for purchase on Amazon.com. The resistant latex bands come in a set of four 10 inch flat resistance stretch loops, and are perfect to use in workouts for men and women. Tracy added that customers who buy the resistance bands will also be receiving a free online VIP Club Membership.
Hart-Woods stated that their reason for creating their Bear Bands resistance bands was to help people get a complete workout even if they lead very busy lives. Unlike other training equipment that is too heavy to carry around, these resistance bands are portable, small and lightweight, meaning that they can be used at home, the office, outdoors or any other environment. The company said that the exercise bands are ideal for a training regimen working out the arms, legs, back and core, for both men and women. Workouts can be used for toning, strengthening, shaping, firming, and stretching and balancing conditioning. Bear Bands made the following statement:
"Since it is a set of four varying resistance loops, you can start with the Light (green) resistance band, and work your way up to Medium, Heavy and Extra Heavy resistance as you feel ready."
Fitter Den stated that they created their signature resistance bands in varying strengths and resistances was to help people that come from any level of fitness, from the beginner to the experienced. The resistance bands can also be used as a way to start easy, and as a person becomes stronger and fitter, to increase the resistance and continue increasing their strength and improving their fitness.
Each resistance loop is made with high quality natural latex, and the company stated that they are so confident in the product that they're willing to offer a 3 year guarantee. One customer wrote the following review on Amazon:
"With four levels of resistance, this has something for everyone and for every body part, from rehab to strength building of the larger muscle groups. I love bands, and have started to keep a set in every room of the house for impromptu use whether taking a break in the office or watching TV. These are well made with a nice long guarantee that was stated very humorously on the insert. I look forward to reviewing the bonus materials on the website!!"
Whether they are used as ankle resistance bands or for the arms or core, the company cautioned that Bear Bands resistance loops will be safe to use, as long as the user will abide by best practices that comes with exercising. They said that the durable latex loops are SGS, RoHS, EN71 certified, meaning that they don't contain any hazardous substances and are safe to use. However, Fitter Den does warn those who are allergic to latex rubber to not use these resistance loops.
Release ID: 84051