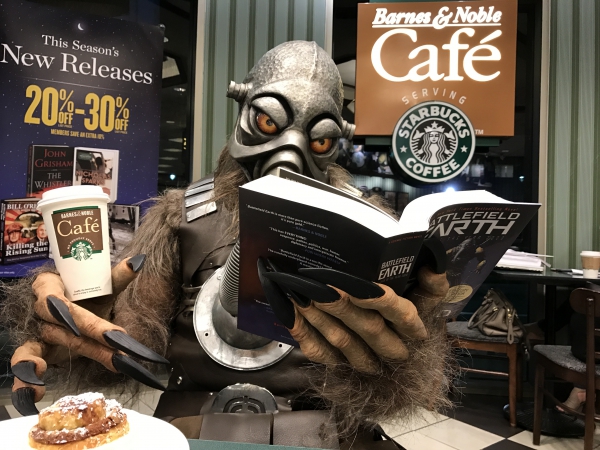 - December 22, 2016 /PressCable/ —
It started in Los Angeles, CA on the 14th of June 2016 when Galaxy Press released "Battlefield Earth" as both a novel, with cover art by famed artist Frank Frazetta, and as a multicast audiobook boasting over 65 actors and 150,000 sound effects. The memorable event included a 30-foot spaceship crashed on Hollywood Blvd replete with the story's heroes capturing the villainous alien overlord of Earth, as hundreds of fans watched on.
"Battlefield Earth" went on to top the Publisher's Weekly bestseller list. While the audiobook not only took the #1 spot, it also won the prestigious Earphone Award and AudioFile Magazine's Best Audiobook of 2016 in science fiction. As one Audible reviewer put it, "It is a game changer for the audiobook industry…The actors are great, the sound effects are perfect, Terl is totally sick! Put it all together and it rocks like a hurricane on crack!"
Galaxy Press held over 300 events promoting the book and audiobook, from conventions to bookstore events to parades. The villain of the story, Terl, a nine-foot evil alien, made dozens of appearances across the US and abroad in person and on television, generating considerable interest in the story. The professional costume was created by Tom Spina Designs in New York based off of the cover art by Frazetta.
Since its June release, the book has sold over 100,000 copies and it continues to sell.
Originally published in 1982 in celebration of L. Ron Hubbard's 50th anniversary as a writer, the book had already sold 4 million copies and spent 8 weeks on the New York Times bestseller list.
"We are happy with the success of Battlefield Earth. Wait until you see what is coming in 2017." said John Goodwin, president of Galaxy Press.
For more information on "Battlefield Earth" go to Amazon.com or BN.com.
Release ID: 156304