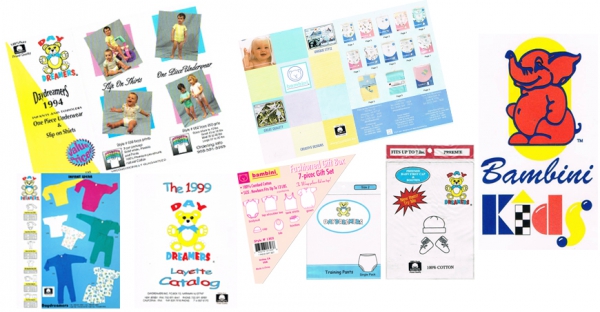 - October 25, 2016 /PressCable/ —
Bambini is an Infant Clothing company based out of Orange County, California. Bambini has been in business for over 25 years! Bambini offers an array of infant layette garments and accessories, including gift packs, and sleep safe boxes. Bambini has numerous satisfied customers and an excellent customer service reputation.
The most consumer focused businesses start like Bambini did, as a family business.
Bambini Timeline. Over 30 years ago, "Elephanten" shoe company was brought over from Germany. Then, the name Bambini was launched, partnering with Elephanten to offer shoes for children in the USA. Later, in 1992, the name Daydreamers was incorporated in the family to sell baby clothing and accessories. In 1996, the business went online, when online shopping was new to everyone! The mother of the family launched her company called Baby Miracles which sold baby shower gift baskets and Layette garments to mothers direct. In 2007, the launching of another subdivision of Bambini called Infant Blanks began, which offers blank garments for promotional information to be added for hospitals maternity wards. In 2013, BabyStarterSets.com was created, and expanded to sleep safe boxes. Over the years, holding family meetings was very important for the survival of Bambini! Nowadays, Bambini has grown to hiring office staff and sales representatives.
Bambini's current mission. Nowadays, Bambini wants to follow the Finnish tradition from the 1930s and expand it to the United States with the product of Sleep Safe Boxes with Baby Starter Sets. This product is the perfect gift for a new mother because of the meaning behind it…safety. Parents want what is best for their child, and this is a significant and meaningful way to show the message.
Why? The mission of Bambini is to help reduce the incidence of infants dying due to unsafe sleep by providing a product to prevent infant deaths. The Sleep Safe Box is portable. Therefore, the baby can sleep anywhere. Back in the 1930s, many families did not have the means to afford cribs for every child. Back then, women had many children and would put the baby to sleep in an open dresser drawer on the floor, in Finland, it was boxes. In the United States, mothers are sleeping with their babies, or putting them to sleep in unsafe areas, leading to infant deaths.
Bambini is ready to follow the Finnish tradition with their boxes, along with the awareness and prevention of Sudden Infant Death Syndrome (SIDS). What better way than to provide the parents with Sleep Safe Boxes with Baby Starter Sets. The American Academy of Pediatrics still recommends babies sleep in a removed dresser drawer, like the 1930s, if there is not a crib available. So, why not a box? The Sleep Safe Box is an alternative approach to safe sleep for infants because it is recommended that babies sleep close to their parents, in a crib or bassinet for the first few months of life on their backs.
What is the Sleep Safe Box? The Sleep Safe Box gives parents a safe place to put their baby to sleep. A portable solution with comfort and safety in mind.
The Box includes: – Lid for storage – A firm fitted mattress (1) – Waterproof mattress cover (1) – Cotton Fitted Sheet (1)
What are the Baby Miracles Starter Sets included in the Sleep Safe Boxes? The starter set does just that, starts the journey of parenthood, providing mothers and fathers necessary items to care for their new baby throughout the first year. It includes garments like bodysuits, lap shirts, baby bibs, baby blankets, hooded towels, infant robes, mittens & booties and much more. The garments are made of 1×1 Rib 100% Cotton, and the Bambini line also consists of 100% Cotton Interlock, Micro Fiber, Fleece, and Thermal, Organic Cotton. Bambini is in full compliance with the Consumer Product Safety Improvement Act, with positive reviews from countless customers.
Release ID: 140622