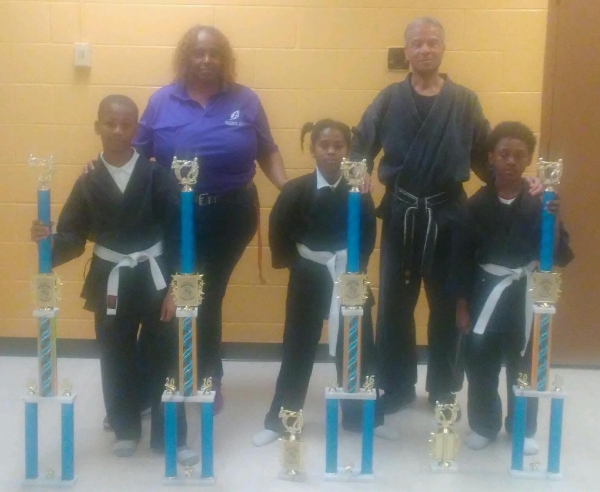 - December 21, 2016 /PressCable/ —
Three students who study martial arts at Park View Recreation Center in West Baltimore City won several trophies at a major martial arts tournament sponsored by Tsunami Martial Arts Academy on Saturday, November 19, 2016. The kids pictured from left to right are Johnate Mosby, Paige Combs and Danny Buck who all won 1st place in their age and group category in sparring. Johnate Mosby also won 1st place for forms (katas), while Danny Buck won 3rd place in his age and group category and Paige Combs placed 5th in katas. All three students are also very solid academically.
These young martial artists impressed the Judges with their focus and intensity in their performances at the tournament. Sensei George Greene who heads Tsunami Martial Arts Academy said that "all three students showed outstanding skills and concentration and I expect them to really excel not only in martial arts, but in life with these attributes." Carolyn Newton-Putty who is the Director of Park View Recreation Center sought activities that are engaging as well as teach students abilities they can use in all aspects of their life. The students are taught by Senior Master Lewyn Scott Garrett, an attorney who is also the Chief Judge of Baltimore City Orphans Court, holds a 5th degree black belt and is under Grand Master Garcia Davis' martial arts system. Judge Garrett volunteers teaching martial arts at Park View Recreation Center where there are 40 to 50 kids who are in the martial arts program. Master Garrett, Sensei Greene and Grand Master Davis covered the costs of the students participating in the tournament as well as belt promotion tests.
Two of the three students received their Yellow Belts during their rank test on December 17th, and the third student is scheduled to test to move to their next belt the first of the year. Persons and/or companies interested in supporting this martial arts program at Park View so that more students at the recreation center may participate in such competitions may contact Director Newton-Putty at 410-396-7849 or email her at Carolyn.newton@baltimorecity.gov.
Release ID: 156117