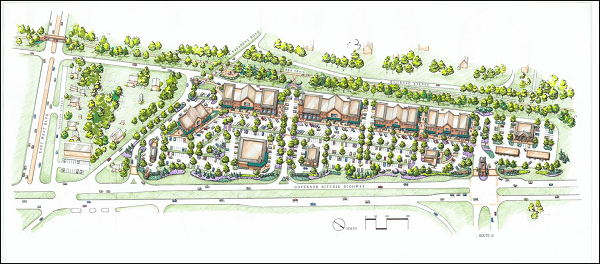 - June 26, 2020 /NewsNetwork/ —
DMS Development, formed in 2001, has spent the past twenty years successfully navigating the many variables that factor into the commercial real estate development landscape in the US Mid-Atlantic region.
Interested partners and investors can review the company's recent featured projects here: https://www.dmsdevelopment.com .
DMS has seen success in recent years because they've strategically focused on development that reflects the needs of local communities. Working closely with area residents, businesses, and municipal governments, the DMS team makes it a primary goal to ensure their projects provide significant value to the existing community.
Over the years, the company has partnered with national and regional retailers who shared their common objective to benefit local communities. They've been named a preferred developer for several retailers as they've successfully completed development on projects including single-tenancy sites, retail shopping centers, and mixed-use.
Having recently surpassed company landmarks of 250+ acres residential land developed, over $60 million executed purchase contracts, and more than two-million square feet of executed retail leases, it's clear that DMS Development understands their market and it's needs.
Recent DMS projects include development of the Windy Hill Shopping Center in Aberdeen, MD at the Beards Hill Road and Route 22 crossing near I-95. The center boasts three national retailers including Walgreens, Patient First, and Firestone.
Currently in planning, DMS will develop another shopping center in White Marsh, MD. This project consists of a mix of pad site tenants on over 7 acres at the intersection of Route 43 and Campbell Boulevard.
Previously, DMS sold the Wildwood Park development of 48 planned single-family homes in Owings Mills, MD to respected builder and developer, Ryland Homes. DMS was also key in entitling 70 residential-estate lots in Hurlock, MD near the Chester River for The Preserve at Wrights Warf site.
Finally and most notably, the DMS Development team initiated and led the formulation of development plans for the 101 York Student Housing project in downtown Towson, MD. The 500,000 sq. ft. (including 10,000 sq. ft. of retail), graduated 5 – 11 story structure with 248 student apartments was sold to student housing industry leader Aspen Heights in 2018. With an August 2020 opening planned, 101 York is representative of DMS' ability to bring even large, complex, multi-year projects to a successful conclusion.
A key member of the team since 2005, DMS Principal Wendy Crites explains, "We believe that challenging sites create unique opportunities." That has been true of most of their projects through the years. Says Ms. Crites, "Nothing is typical. Everything we do is unique. We learn as a company and bring that new knowledge with us to make our next project even better, for the benefit of the communities we'll work with in the future."
DMS works with leading Baltimore area architects, construction companies, law firms, suppliers, and other service providers toward the completion of their complex projects. The company has demonstrated unique proficiency in planning and guiding the entire development project, from raw land, to property assemblage, entitlements and construction. No part of the intricate planning and coordination real estate development process is beyond their capability.
Information about all DMS Development services and projects can be found on the company's website: https://www.dmsdevelopment.com .
Release ID: 88965779