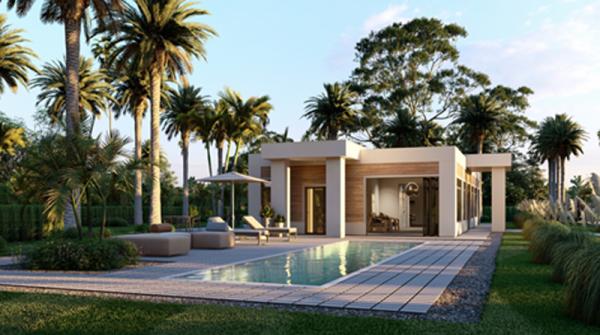 - September 4, 2021 /PressCable/ —
MURRIETA, CA – Bahia Villages, a nationwide collection of luxury senior living communities for adults 55+, has announced a strategic joint venture partner opportunity for the company's first community located in the Southern California town of Lake Elsinore. The Bahia Villages in Lake Elsinore will feature 71 different custom modular, single story, one- and two-bedroom homes that feature luxury finishes, state-of-the art technology and renewable energy, eliminating electricity bills for residents.
Led by veteran entrepreneur and investor Sharon Amezuca, and an experienced team of technology, real estate and finance entrepreneurs, the company plans to build 350 different Bahia Villages in prime locations across North America, with each senior community featuring a minimum of 70 luxury, detached homes equipped with numerous premium amenities including a club house, swimming pool, spa, gated dog parks, and picnic areas with BBQs and fire pits. Bahia Villages homes are built using the latest sustainable building materials, and every home is entirely electrically self-sufficient thanks to a state-of-the-art PVGraph solar system, home energy storage system and other features designed to eliminate electric bills.
The luxury 55+ (age-qualified) communities are built exclusively by strategic partner, S2A Modular, to usher in a new standard of living with premium amenities, high-quality finishes and the latest smart-home technology. The first community is underway in Southern California, with additional communities being developed in Northern California for a total of 350 planned communities nationwide. The joint venture opportunity availability includes monthly residual income from the proceeds of home sales and surplus energy generation.
To achieve these levels of efficiency, modular construction leader S2A Modular utilizes proprietary, next-generation construction techniques to achieve "Net Zero" and "Net Positive" efficiencies. S2A Modular is the exclusive builder of Bahia Villages properties, and each community location will be located strategically near one of the company's premier manufacturing facilities to help accelerate construction timelines. S2A Modular is building 35 MegaFactories across North America over the next four years. Luxury Bahia Villages homes start at $399,000 and will have a wide variety of upgrades available during the purchase process.
Bahia Villiages will offer one and two-bedroom, 1,000 square foot, single-story floorplans with two-car garages and affordable maintenance & amenity fees. Communities designed for active lifestyles will have private clubhouse for residents, a picnic area with barbeques and fire pits, walking / jogging trails, swimming pool, spa, gated dog park and resort-style landscaping and gardens. Each home will also include a Tesla Powerwall & FreeVolt PVGraf solar system.
"Every day, 10,000 Americans reach retirement age and many want affordable, luxurious active living with lots of activities, so we've made it our mission to create communities that deliver those features and compliment an active lifestyle," said Sharon Amezcua, CEO of Bahia Villages. "Bahia Villages is not just offering an amazing lifestyle experience, it offers freedom from rising energy costs with S2A Modular's incredible engineering and Net Zero efficiencies. That's why this investment opportunity is so exciting — joint venture partners can join our movement and help shape the future of affordable and sustainable luxury senior living."
For more information, visit www.BahiaVillages.com. For information about S2A Modular, visit www.S2AModular.com.
About Bahia Villages Communities LLC
Bahia Villages Communities LLC (BVC Inc.) is the builder of luxury 55+ age-qualified communities for active adults who want the most out of their active years without worrying about rising energy costs. With 350 luxury communities planned nationwide in premium locations, Bahia Villages is set to become a premier destination for active seniors. Each community features a mix of luxurious one- and two-bedroom floorplans with two-car garages, high-end appliances and premium finishes. Designed for complete electrical self-sufficiency and constructed from high-quality sustainable building materials, Bahia Villages homes and community properties are manufactured by strategic partners S2A Modular, in one of its state-of-the-art MegaFactories.
About S2A Modular
The Future Is Here. Introducing the #GreenLuxHome. These first electrically self-sustaining, custom luxury homes are changing the way the world understands residential buildings – creating a new standard in stylish design, construction speed, tailor-made features with high-end materials, "surplus energy income" (Net Zero), superior hemp-based sustainable building materials and smart-connected living. From constructing the latest in patented graphene solar panel-charged designer homes, full communities, commercial buildings to world-class hotels, the stunning S2A MegaFactory is a one-of-a-kind manufacturing center, producing impeccable structures that usher in a new era in better building and living. No more energy bills. Faster construction. Immediately higher home value compared with traditional "site-built" structures.
Release ID: 89044354