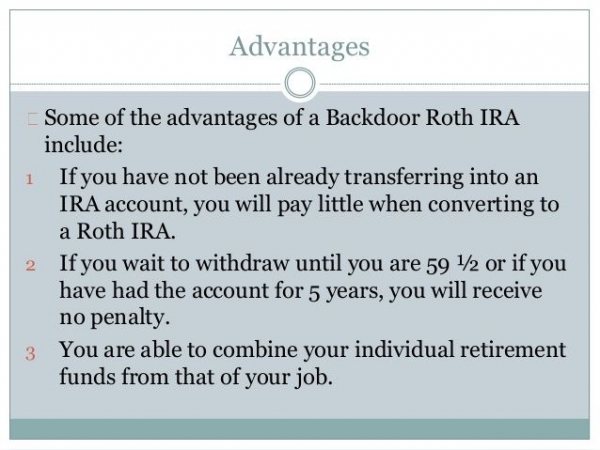 - September 1, 2015 /PressCable/ —
Saving for retirement is serious business, and there's no shock that many people are doing their best to get any advantage possible that can help them have a more secure future. This has often led smart retirement planners to explore Backdoor Roth IRAs. Recently, a leading website of Roth IRA information, Roth-IRA.net, announced their observations are pointing towards Backdoor Roth IRAs may no longer be an option due to coming future legislation. This makes setting up a Backdoor Roth IRA soon essential for people who would like to do so.
According to an article in USA Today, the new proposed legislation looks unfavorably on backdoor Roth IRAs as an abuse of retirement planning rules. However, it also mentions that the law is unlikely to pass in the very near future.
"It is possible, and even likely that Backdoor Roth IRAs will soon be rendered obsolete by potential legislation," commented a spokesperson from Roth-IRA.net. "While it is still possible, it is important for higher income individuals to take advantage of this incredible tax saving investment while they still can."
According to the website, which provides an in-depth look at what a Backdoor Roth IRA is, they have several important benefits for most retirement planners. Some of these benefits include future tax savings, as well as the ability to combine funds from a backdoor IRA with those of your employer funds.
Backdoor Roth IRAs were opened up in 2010 to more people as income requirements were lifted, offering a chance for even people making high amounts of money to have the advantages of a Roth IRA. This requirement being changed again to a less favorable position is a real possibility, leading to the announcement from Roth-IRA.net.
While nothing is certain in the economic world, knowledge is power and few places offer as much quality material on this subject as Roth-IRA.net.
For more information be sure to visit the website at https://roth-ira.net/finance/backdoor-roth-ira/.
Release ID: 90344