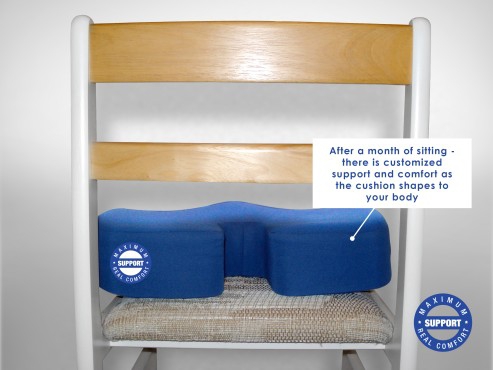 - July 27, 2016 /PressCable/ —
Earlier today, Living Better Tools finally announced the release of the Back Pain Relief Game Changing Cushion – the new Orthopedic Coccyx Cushion and Tailbone Pillow, which has been in development since June 2014. The main aim is superior back support without flattening… but the pillow does so, with a difference: The cushion has two to three times the amount foam than that of competing cushions but most importantly the pillow features a proprietary blend of top quality memory and injection foam that has been thoroughly tested to determine the right combination for maximum support and comfort. The key though with the design, materials and construction is that after a month of usage it molds to the body for customized relief and relaxation.
David Grant, Director of Research at Living Better Tools, says: "The goal was to develop a new concept in back pain relief with this game changing cushion. In the coccyx and tailbone cushion market most consumers have noticed how cushions flatten. This is a problem because there is no longer any support for the back, and the user can slip off the cushion and experience bad falls. The last thing someone with a bad back wants or needs is to fall off their chair."
So as a welcome change in the marketplace, the new Back Pain Relief Game Changing Cushion has important safety features such as an anti-slip dimple base and anti-slip fabric.
Living Better Tools chose to make this move because tailbone and coccyx cushions feel fine at first but with the flattening, the pillow surrenders almost all support. Living Better Tools research and dialogue with chiropractors determined that support for the back is fundamental and essential to relieving back pain while sitting.
David Grant also said "Living Better Tools wanted to give customers a cushion that is going to provide years and years of back support and comfort. With the Back Pain Relief Game Changing Cushion, someone suffering from back pain has a fresh new possibility of sitting in comfort. Most customers who tried the pillow say this cushion has changed the concept of what a chair pad or seat cushion is and appreciate the easing of back pain, be it, lower back, tailbone, coccyx or sciatica related.
Living Better Tools has defied convention of the Tailbone and Chair Pad market with the release of the Back Pain Relief Cushion.
It can be purchased at Amazon: https://www.amazon.com/dp/B00YGC7S1C or further information can be found at http://www.buttpillow.org
Living Better Tools was established in June 2014. Since Day 1 it has always aimed to help people live better and more comfortably.
Release ID: 124882