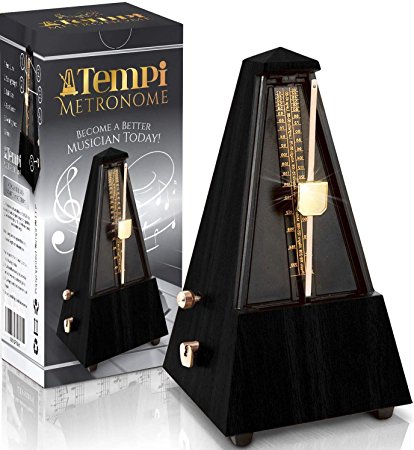 - October 26, 2017 /PressCable/ —
There is a popular new metronome on the market these days, and surprisingly it's not a digital one. The Tempi Metronome for Musicians returns to a simpler time in history, when tablets and smartphones were not in use, all phone calls were made on a landline, and people still wrote checks and letters very frequently.
https://www.amazon.com/Tempi-Metronome-for-Musicians-Black/dp/B06XJ45FJB
A mechanical metronome made with quality steel gears, the metronome needs no batteries or chargers, just wind after every 20 minutes of use. The outside casing is made of an attractive mahogany grain veneer that is built to last. The Tempi Metronome for Musicians is an elegant addition to any practice space or teaching studio. Easy to use, merely set the marker to a tempo between 40-208 beats per minute, let go, and watch the pendulum swing in perfect time. An extra bonus is the beat bell, a lever on the side which can be set to 0/2/3/4/6 in order to practice rhythms in a specific time signature. The bell rings on the downbeat of each measure.
Digital metronomes, while convenient, do not always have a clear-sounding beat that can cut through the sound of an instrument playing over it. Often the digital metronome is an app on a smartphone or tablet, which can be distracting for children or adults, too. The Tempi Metronome for Musicians has a distinct "tock, tock" sound that can be heard very precisely. This is very helpful, especially for young students who are just beginning to learn about how to play correctly with a metronome.
Step back in time to a simpler era, when there weren't so many constant distractions to practice time. Use the Tempi Metronome for Musicians, and practices can be distraction-free and focused. A two year warranty and 100% satisfaction guarantee come with each purchase, so why wait any longer? Interruption-free practice time awaits.
For more information go to https://www.amazon.com/Tempi-Metronome-for-Musicians-Black/dp/B06XJ45FJB
Release ID: 253261