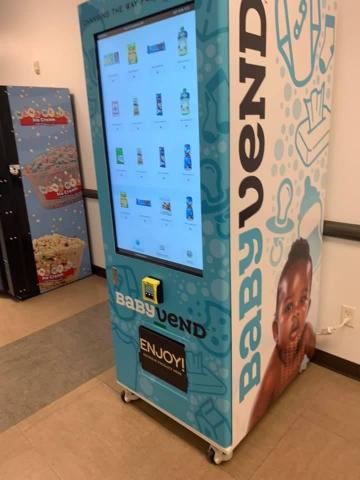 - November 2, 2021 /PressCable/ —
Meet Jasmin Smith, a single mother of twins, who has launched Baby Vend – a patented and trademarked vending machine company that sells baby-related products. Based in Anchorage, Alaska, her vending machines are already being used at airports and other locations across the country.
Jasmin started Baby Vend when her son used his last diaper while she was out shopping, Jasmin said. She found herself stuck in the mall with a cart full of items that needed to be paid for while realizing that her choice was to leave immediately or figure out a clever solution. Many parents are caught off guard when they randomly have to halt all activities to tend to the need of young children.
At that moment, she realized how frustrating this scenario could be for other families, and decided that she wanted to create a company that centers around ensuring that no family is left somewhere without access to baby supplies. Pretty soon, they have a vending machine for baby's and toddlers anyplace that you need to travel.
Jasmine used her existing experience as a successful business consultant and business development trainer to start a baby product-based company and create a unique machine, technology, and business module, Jasmin adds. They literally have a unique vending machine product that is currently being placed in airports, hotels, and sporting venues all across the United States.
Partnering with vendors
Jasmin says that Baby Vend welcomes partner products in their machines from other small to medium-sized companies. They are already working with several companies like Bambinos Baby Food and Play Edventures. In 2021, they have managed to get their awesome vending machines in multiple airports.
There are also franchise opportunities available for franchisees who want to put the fun back in the family while making a passive income. Reach out to them and learn how to start a vending machine business and contact one of our sales reps to get started in the vending machine business.
Wondering How Much A Vending Machine Costs?
For more details, visit www.BabyVendUnlimited.com or contact the company at 907-602-5297 or business@babyvendunlimited.com
Release ID: 89051233