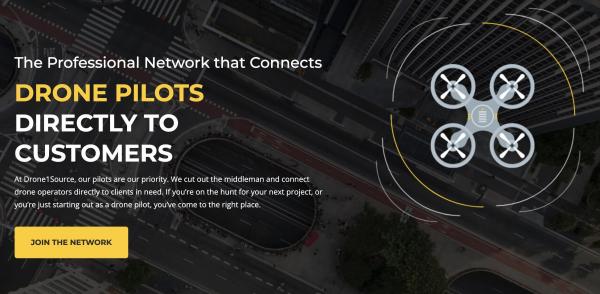 - November 9, 2021 /PressCable/ —
The Drone1Source website includes a comprehensive database of drone pilots for customers to browse when searching for a pilot for their next project. If you're a customer who is new to the benefits of drone usage, the Drone1Source website also provides a list of industries that can use drones to reduce costs, improve safety, and increase inspection speed and accuracy.
In addition to its comprehensive search features for customers, Drone1Source allows pilots to sign up to join the community and connect directly with customers looking to hire drone pilots. Drone1Source provides pilots with a personalized website to showcase their work along with a library of educational content to further expand their drone piloting knowledge.
"The team at Ayokay really grasped what I was trying to accomplish," Kevin Raber, Founder and President of Drone1Source, said about the website building process. "They were able to deliver a website that was exactly what I envisioned."
Because Drone1Source simultaneously caters to both drone pilots and customers, its website stands out from its competitors. Ayokay wanted to highlight these features in its website design, which led to the extensive "Industries" page for customers and intuitive "Solutions" page for pilots.
"Other services really don't compare to the professional level of service you get from Ayokay. They are key to a truly professional site and project," Raber said.
Ayokay is proud to announce its most recent website launch with Drone1Source. Check out Drone1Source's website at https://www.drone1source.com/.
About Ayokay
Ayokay is a full-service marketing agency based in Indianapolis. Ayokay serves clients across all fields, including healthcare, eCommerce, nonprofits, and others. Ayokay is committed to serving clients' broad spectrum of needs, including web design and development, search engine optimization (SEO), digital and social media marketing, eCommerce, and more. Ayokay applies a collaborative approach to marketing and web design combined with acute attention to detail.
About Drone1Source
Drone1Source works with drone pilots to connect them to customers seeking skilled pilots. One of the ways that Drone1Source does this is by building a vast drone pilot network that customers can browse to select the right pilot for their job. This network allows pilots to create unique profiles that can showcase their skills and desired piloting industry. Unlike other middleman services, Drone1Source does not take a cut from pilots' commissions.
Release ID: 89052286