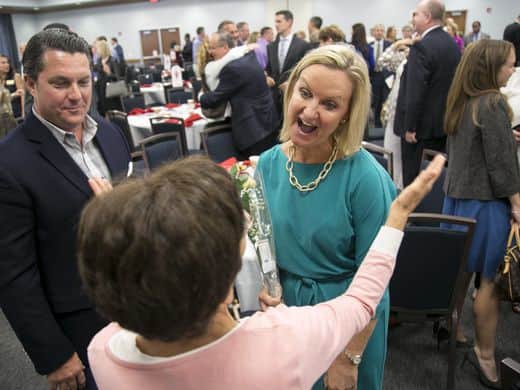 - February 25, 2017 /PressCable/ —
FOR IMMEDIATE RELEASE :
Ft. Myers, Florida – (February 22, 2017) – Axiom cares a 501(c)3 is proud to announce Board member Christin Collins, System Health and Wellness Strategic Business Partner at Lee Memorial Health System, has been named the Person of the Year in 2016 by The Fort Myers News-Press. The People Of the Year Awards Breakfast was held on Tuesday February 21st, 8-10:30am in the Cohen Center Ballroom on the FGCU campus.
In her leadership roles with the Lee Health and Lee Heath Foundation, Christin has partnered to raise millions of dollars for The Golisano Children's Hospital of Southwest Florida. Volunteered her time as board member for the PACE Center for Girls, founding the Love that Dress! fundraiser, she is currently Co-Chairing the Southwest Florida Wine and Food Festival among many other leadership roles in the local community
"I'm very passionate about aligning people with their generosity with causes that they're passionate about. That's very fulfilling for me," Collins said. "And working on what I feel is the biggest project I'll see in my lifetime — the building of a children's hospital — was very euphoric."
Axiom cares would also like to acknowledge another board member, Samira Beckwith, who has previously won Person Of The Year in 2010. Samira K. Beckwith has served as President and CEO of Hope Healthcare for more than 25 years. With her leadership, the organization grew from a hospice caring for fewer than 100 patients a day, to a comprehensive home health care system. Today, Hope cares for more than 4,000 individuals a day through a variety of innovative programs.
Cole Peacock: "It is truly amazing to witness the passion and leadership Christin displays on a daily basis, she is an incredible role model for the future leaders of the community. Having Samira and Christin as Person of the Year speaks to the strength of our Board and the positive impact in the local community. Congratulations to both of these matriarchs of SWFL."
About Axiom cares:
Axiom cares a 501(c)3 dedicated to providing proper 'Medical Nutrition', education, and partnerships to individuals, families and loved ones in need.
Mission: To facilitate and conduct scientific research into areas of unmet global medical nutritional needs while also providing education and assistance to those in need of medical nutrition without the financial resources of obtaining it on their own.
#30#
Contacts:
Cole Peacock, Axiom cares (888) 444-7992
Release ID: 172329