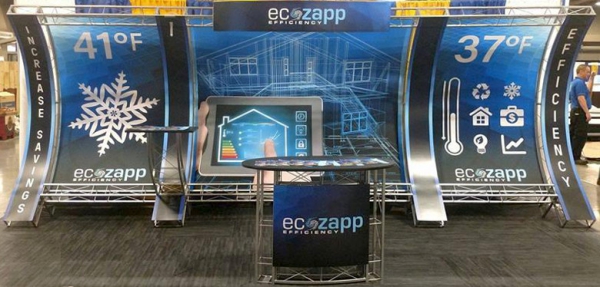 - December 6, 2017 /PressCable/ —
One of the fastest-growing businesses in the Houston area just got better. College Station-based EcoZapp A/C Efficiency joins EcoZapp Pest & Christmas Lights in an effort to provide a full range of services for making homes more comfortable and inviting.
EcoZapp A/C Efficiency provides all the traditional services of an HVAC company: repairs and preventative maintenance of heating and air conditioning units. However, they take it one step further with the addition of cutting-edge products and services. "Besides providing repairs and maintenance, we want to give people the chance to take advantage of some exciting newer products that can really impact the comfort of their home and health of their family," says Josh Zapalac, founder of EcoZapp A/C Efficiency.
Arctic Blast A/C additives, now offered to College Station-area residents by EcoZapp, can improve the cooling ability of older, less-efficient A/C units, lowering most energy bills by up to 15% and eliminating the need to replace the unit with a newer, more energy-efficient one. Arctic Blast is added directly to the refrigerant that is already present in an HVAC system. It improves thermal efficiency, which results in cooler A/C and reduced energy consumption. Arctic Blast can even increase the life of the equipment and allow for quieter operation.
Reme Halo Air purifiers are another new offering by EcoZapp. It's important to stay on top of indoor air quality, especially for those with allergies and asthma and for homes that are subject to lingering odors. The Reme Halo Air Sanitizer is an excellent answer to these needs. It can thoroughly remove the risk of airborne bacteria, mold spores, and viruses while neutralizing all odors and removing pollutants like particulates and gases.
"We want to focus on saving people money, helping everyone improve their A/C system without needing to replace a whole unit. We also put a big focus on indoor air quality with air purification products. So many other HVAC techs are unfamiliar with new and modern technology, but we want to fully embrace the latest innovations that the HVAC industry has to offer." -Zapalac
Scheduling any of these HVAC services or obtaining more information can be done at www.EcoZappHVAC.com or by calling (979) 224-4277. The company can also be found on Facebook @EcoZappHome.
Release ID: 273964